If we're talking about Rockford Fosgate brand, know ahead of time that we're talking about a top brand that produces quality and top-rated audio components for quite a long while now.
Rockford Fosgate offers different car subwoofers; Power, Prime, and Punch series. The latter being the Punch series falls in between the Power and the Prime series in terms of price and performance.
Rockford Fosgate Punch subs are built in various sizes and are the market favorite. That's the reason we've chosen to review its star—the Rockford Fosgate P1S412 Subwoofer.
The P1S412 Subwoofer is rated as no one above all other 12 inch subwoofers available in the market today. The Rockford guys ensured that this subwoofer delivers powerful lows that will heighten your sounds strengths and at an affordable rate too.
Features of the Rockford Fosgate P1S412
Characteristics of products is now a must in almost every product review, we've taken time to test this product, note their features and wrote down this review. Below are the highlights of this Rockford Fosgate P1S412 Subwoofer.
Responsive Paper Cone Rockford Fosgate Punch P1 P1S412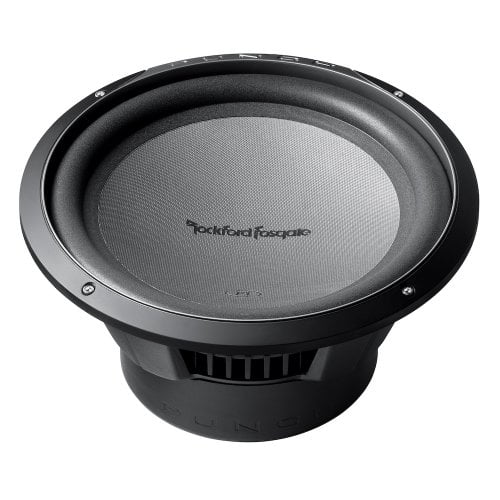 The P1S412 comes with a paper cone which is flexible and fortified with Kevlar Fibers. The Kevlar Fibers is the same material utilized in bulletproof vests, and it ensures reliability and performance. The P1S412 woofer cone surround features a high-density rubber to ensure long-term reliability, well-damped, and robust quality sound.
Still, on the cones qualities, this subwoofer utilizes a modern tech termed "VAST." The Vast technique ensures that available cone area is increased by about 25%, and it is done to attach an oversized rubber surround to the P1S412 cone—meaning that more air can be pushed for more prominent bass.
The Rockford Fosgate P1S412 does everything right when considering the sound quality and bass output. Its output sound has an excellent warm Punch, featuring fast and tight response with immense definition, plus given out a loud sound.
Sensitivity
The P1S412 has its sensitivity rated 86dB, and it is capable of handling a maximum of 300 watts RMS. This subwoofer is developed to work excellently in a ported or sealed box, which means that you've got the option to choose different bass you desire for your system.
If you're going for a car audio competition, I'll tell you to forget it if you're going with this subwoofer because you won't win anything. However, comparing its price? It is the best in this class—considering all the factors.
CEA-2031 Regulation
The Rockford Fosgate subwoofers or rather speakers, in general, obey the industry standards of CEA-2031. What this means is that your subwoofer handles power via continuous demand and not an instantaneous power handling. Instant power handling when used overtime damages voice coils.
Flexible Mounting
This subwoofer as with its other cousins in the Rockford Fosgate family can be mounted in flexible directions. It features a detachable trim ring which can be integrated on the front of the backside of this subwoofers frame. This is the secret that makes the Rockford Fosgate subwoofers have a finished design regardless of its mounting configuration.
Stitched Tinsel Leads
To prove that they're technologically smart, the Rockford Fosgate features a periodic multipoint lead wire stitching which ensures the reduction in the mass of each tinsel lead and distributes strains and stress over more significant areas. This equally improves the performance and reliability of the P1S412 Subwoofer.
These tinsel leads which are stitched ensures that extreme duty cycles are being withstood, also high current and fatigue which is essential to its robust design.
Aluminum Voice Coils Former
The Rockford Fosgate P1S412 is built with anodized aluminium voice coils formers. This other technology ensures superb heat dissipation. This technology is a massive boost from the traditional plastic solution. The aluminium absorbs the heat, and dissipate thermal build-up in areas like the voice coil quickly to ensure the subwoofer stays cool even in high conditions.
Generally Notable Features
Comes with a nickel-plated (10-AWG) push terminals
Its surround is made of High-density poly-foam
Features a reinforced (Spun-laced Nome) high-temp voice coils.
Features Linear spider studded with 16 AWG tinsel leads.
Injection-moulded parabolic Acrylic dust cap.
Comes with a Magnet cover (PVC textured).
Detachable trim ring  
Its cone is polypropylene thermoforming.
Pros
Continuous power handling is 300 watts.
Easy and flexible to install.
Great sound quality.
Deep bass quality.
Works excellent in a sealed or ported enclosure.
Conforms with CEA-2031 regulation.
Produces loud sound.
Cons
It's deepest frequency response is about 27Hz.
Its sensitivity rating is just 86dB       
Final Words
If your desire for a car subwoofer is a punchy sound. Then this reviewed Rockford Fosgate P1S412 is just for you. This subwoofer gets the market attention because of obvious reasons which we've stated above and might have missed some. The top modern techs lavished in this 12-inch subwoofer ensures it remains in the throne for the best 12-inch subwoofers classification.
Would you get this subwoofer?
Have you used it before? You can share with us in the comment section.