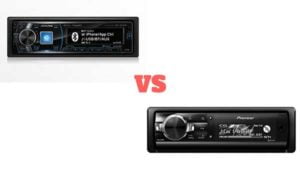 Over the years, car audio has evolved from the simple AM radio receiver with a solitary speaker to complex electronic systems. Today, many systems can play music from a variety of audio sources including radio, CD, portable music players like the iPod, USB flash drives, SD cards, Bluetooth audio, and hard-disk drives.
This article focuses on the two innovative car stereos- Alpine CDE-HD149BT and Pioneer DEH-80PRS emphasizing on their features.
Alpine Tuneit App
The Alpine TuneIt App is a straightforward sound-tuning app with Facebook notifications feature. The app is free for download onto your iPhone or Android smartphone, and you create an account about your vehicle as well as your Alpine sound system.
Follow the simple graphical instructions to adjust audio settings for your particular car or select from default settings in the database. You can change the following settings: Parametric EQ, Time Correction, Crossover, and Media Xpander. You can set and save up to 100 distinctive sound settings in your profile, which is useful if you want different settings to use for different kinds of music.
You get rated on your tuning skills if you share your settings; you can test and rate other users' settings. The more active you get, the higher your account status progresses within the app.
BT Plus, Bluetooth Hands-Free Calling & Audio Streaming
This feature helps you to use your phones or headsets less you ultimately stay focused on safe driving. With Bluetooth wireless technology, you can go on with your phone conversations in the car without external adapters.
You can adjust your cell phone/head unit to answer your calls automatically. With the supplied microphone you can speak and then listen through your car's speakers.
Audio Streaming with Ease, Even with iPhone iOS 6x
If you have a vast music library on your phone, the CDE-HD149BT can stream and control your music library via Bluetooth, AVRCP, and A2DP profiles. You can listen to your iPhone without plugging-in by streaming your music via Bluetooth.
Microphone Included
This unit has all that's needed for Bluetooth convenience. The CDE-HD149BT is equipped with a tuned receiver that's designed to filter feedback and noise interference. This allows ideal placement in your car, for improved sound quality.
Steering Wheel Control
With a factory Bluetooth steering wheel controls in your car, it will also control your current CDE-HD149BT's built-in Bluetooth. Or, control your head unit via your default steering wheel controls by adding an adapter. To add this feature, adapters from popular brand names such as Soundgate or PAC are recommended.
Rear USB Aux Input
You can connect USB memory devices like thumb drives with a dedicated USB input and USB cable. Song lists on USB devices are arranged alphabetically and allow eight levels of file/folder search capabilities. This unit will find music files ignoring other file types on the USB device.
Note: MP3 device or phones can't be controlled through the head unit independently.
Quad-Illumination
Add a sharper look to your dash by matching the illuminated buttons on the radio to your dashboard. The CDE-HD149BT offers blue, red, green, and amber color alternatives.
Best Sound Quality
For excellent sound quality, the CDE-HD149BT utilizes a 24-Bit DAC for unrivaled sound quality with sources of your digital media.
Built-In Equalizer
Select from 10 different EQ modes (Flat/Pops/Rock/News/Jazz/Elec Dance/Hip Hop/Easy Lis/Country/Classical) to get the best sound from all your sources. If the Equalizer presets do not meet your listening taste, there's a 9-Band Parametric Equalizer you can reset and save as a user preset for an improved sound response curve.
Compatible with iPod and iPhone – Including iPhone 5
It is convenient controlling your iPod or iPhone music in the car you enjoy seamless operation of your iPod in addition to absolute control of all your favorite media sources. Control all search options of your iPod from the CDE-HD149BT via Playlist, Album, Artist Genre, Song, Composer or Podcast.
Find it Fast with Fast Search and Alphabetical Search
Get access to control of all the songs from your iPod or iPhone right from the head unit. Extensive music libraries are no problem with faster connection pace. With quick Alphabet Search, you can scroll through long lists of music by skipping through the letters of the alphabet. Once you locate the letter you want, you can select the specific song.
App Direct Mode
Play even more music from your iPhone or iPod with App Direct Mode. This new feature offers primary app control -Play, Pause, TrackBack, Track Forward and displays metadata directly on the head unit from several third-party apps so that you can enjoy your drive even more and extend your listening options without operating your phone.
Charge Your Phone
Regular in-vehicle solutions may drain your phone's battery, but using the CDE-HD149BT, your phone charges via the USB cable (sold separately), hence you can enjoy nonstop music and charge your phone simultaneously.
Compatible with Pandora Internet Radio for iPhone and Android
Regardless of if you have an iPhone or Android smartphone, Alpine offers you full control of Pandora straight from your dash. You can choose to connect through USB or stream wirelessly and still enjoy your best Pandora channels with Thumbs down/Thumbs up buttons directly on the faceplate; together with fast search features, and the ability to create a new Pandora station and bookmark your best tunes.
Built-In HD Radio
Alpine is HD Radio compatible. All the music and programming together with FM stations with CD-quality sound and AM stations you listen to is played in a clear digital format. Expand your music option further with multi-casting capability-HD1, HD2, and HD3, and you will hear more talk and music content from the stations you already access.
Smart Reception Management- A Better Way to Listen to HD Radio
Typical HD Radio-equipped tuners use an auto-switching technique when listening to the main & multi-casting channels. It works well on the main channels, but, when listening to a sub-channel, you will be switched back to the main channel if the digital signal is briefly lost.
This interruption can be an irritating experience to stay engaged on a particular multi-casting channel if the digital signal is weak. Alpine's solution gives Smart Reception Control through the default setting "Digital MC." The Digital MC setting uses a Hybrid technique of auto-switching digital and analog on the main channel and makes use of all-digital for sub-channels. With Alpine solution, you stay on the channel you appreciate, resulting in a smart HD Radio experience.
Sirius Satellite Ready
You not only get music, news, talk, entertainment, traffic, weather information, and premier sports, with the CDE-HD149BT. You also enjoy these advanced SiriusXM features when you add the SiriusXM Connect Vehicle Tuner:
Tag That Song
When a song you like plays, press and hold down the CDE-HD149BT's Volume button for two seconds. The iTunes feature allows you to tag songs you hear on SiriusXM and stores the info on your iPhone so that when next you connect your iPhone to iTunes, you'll be able to preview your selections and then purchase and download them straight from iTunes.
It's Game Time
If you want to know if your favorite NFL, NBA, NHL or college football or basketball team is playing live, the CDE-HD149BT has this feature that will display an on-screen message if your favorite teams' games are being broadcast. Select that station so you can listen to the gameplay by play. You can as well get the latest score updates while you listen to other stations.
Instant Replay
The CDE-HD149BT offers the SiriusXM Replay function, so you can rewind, pause, and replay up to 60 minutes of live content. Play your favorite content again, or hear content you missed while you listened to other channels.
They're Playing Our Song
If you want to make sure you hear your favorite music whenever it's being played, with SongAlert and ArtistAlert, you can get notified when your favorite songs or artists are being broadcast on any SiriusXM station. You can go to that broadcast and play the songs you want to listen to.
Hands-Free Calling and Audio Streaming
With Secure Simple Pairing, you can pair a Bluetooth-equipped phone to the DEH-80PRS with ease without having to enter pin codes or go through complicated settings. When a registered Bluetooth device is close to the receiver, the connection function pairs the two units automatically.
With a compatible audio player device that as well features built-in Bluetooth, you can wirelessly stream (A2DP) and control audio (AVRCP) to the receiver.
A Better-Than-Ever Listening Experience
Pandora is a personalized internet radio that is designed to help you discover new music that you'll love mixed in with music that you already know. With the DEH-80PRS, you can enjoy the superior sound quality and full control of the Pandora experience in your car directly from the receiver.
You can give tracks "thumbs up" or "thumbs down," bookmark a song so you can purchase and download it later, switch between your personalized radio stations with ease, and view full-track data.
In-dash control for Pandora works with Apple iOS. Just download the free Pandora Radio app to your iPhone or iPod Touch and link it to the DEH-80PRS with the CD-IU51 interface cable (sold separately) and enjoy your music.
Audiophile Grade
The DEH-80PRS CD receiver offers audiophile-grade internal components and materials to help you achieve Pioneer's standard sound quality. The exclusive sound field technologies, including Auto Time Alignment and Auto EQ, help optimize audio to perfectly suit particular listening spaces and allow mild manual control of settings. Versatile connectivity helps give excellent sound quality from various digital gadgets.
Burr-Brown 24-Bit D/A Converters
Three Burr-Brown digitals to analog converters are used – one each for the high, mid, and low-frequency ranges – providing exceptional linear sound reproduction with wide dynamic range.
Four-Layer Circuit Board Design
Using a four-layer copper foil board with components fixed to both sides of the board paves a circuit board with a little footprint. The inner layers of the circuit board are devoted to the power and ground supply traces, which authorizes lower overall circuit impedance and significantly filters noise.
Full-Custom High-Capacitance Power Supply Capacitor
In-built capacitors in the power supply help sound clarity and consistency. Exclusive parts are developed and tuned for excellent sound quality through a thorough review of materials and repeated listening trials.
Sound Master Clock Circuitry
The new Sound Master Clock reads and processes digital signals with extraordinary precision – eliminating unwanted variation.
28-bit Binary Floating-Point DSP
Pioneer's 28-bit binary floating-point DSP together with the use of advanced programming technology enables a highly precise sound processing and tuning without impeding the source's digital signal.
3-Way Digital Network
The DEH-80PRS has a 3-Way Digital Network, connecting (via three 5V RCA pre-outs) up to three external amplifiers, each devoted to driving low-, mid- and high-frequency ranges. Resulting in a clearer separation of the three frequency ranges, giving a more natural sound realizing more of each speaker's potential in a multi-speaker system.
L/R Independent 16-Band Digital Equalizer
This feature is excellent at overcoming in-vehicle frequency response peaks and troughs. With fine-tuning settings at 2/3 octave steps, tailoring the frequency curves to generate a flat response is possible in any vehicle.
Also Read: A Complete Guide to Best Line Out Converter
Auto Time Alignment and Auto EQ
Time alignment automatically measures the delay from each speaker to the driver's position and sets speaker sound output timing, so that the sound from all speakers gets to the driver's ears in perfect sync. Auto EQ uses a microphone to observe and analyze acoustics and then fine-tunes all frequency bandwidths and rear and front speaker digital parametric equalization. These processes occur automatically in 399 seamless steps within 30 seconds to 6 minutes.
Time Alignment
This function not only precisely adjusts each speaker's output timing according to its distance from the listening position; it is also flexible to a 3-way multi-amplifier and speaker system.
USB Direct Control for iPod/iPhone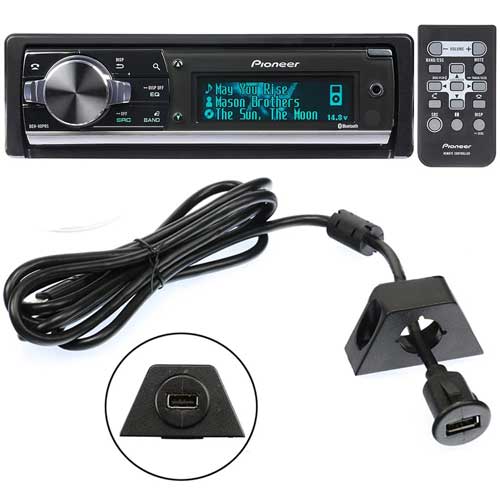 Pioneer's DEH-80PRS works with direct connectivity to your iPod or iPhone for audio playback via the optional USB interface cable (sold separately).  Displaying on the full dot LCD: The Song, artist, time, and album information.
With tools like Link Play and Alphabet Search to enable you to find content faster. The system's wired USB connection offers direct digital signal transfer from the device for clean, clear sound while providing 1 amp of current to keep your iPod/iPhone charged.
Dual rear USB ports allow connection of 2 compatible USB devices so you will never run out of source options. For example, you can connect an iPod to USB1 and a compatible USB hard disk drive to USB2.
Rethinking Connectivity
With App Mode, you can enjoy listening to the content on select compatible apps directly on the receiver from a connected iPhone or iPod Touch. Controls like reverse or track forward may be executed from the receiver.
Customize it
Harmonize the display and key illumination to your car's interior lighting. Over 210,000 colors are available to match the illumination in any car. The key light and display illumination colors can be customized separately for an endless number of color combinations.