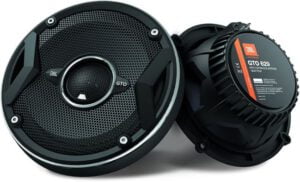 The JBL GTO629 speakers are the ideal upgrade to your present speakers. They are made with a carbon-injected cone material to reproduce music the way the artist initially intended accurately.
The three-ohm voice coils let the speaker function at an efficient 4 ohms on powering, this enables them to utilize every watt of power your head-unit or 4-ohm stable amplifier can generate. These speakers have a vented magnet with a high thermal-capable voice coil which effectively disperses heat, ensuring your product lasts long.
The edge-driven speaker cones allow higher sound levels with the same amount of power. The high-frequency responses that the JBL GTO629 speaker offer will leave your ears very satisfied when you are listening to your favorite kinds of music. If you are looking for quality, the GTO series speakers by JBL have the technologies to meet your needs.
Features of JBL GTO629 Co-Axial Speake
The JBL GTO629 is a traditional two-way mid-tweet type coaxial speaker that uses a six-inch mid-range and one-inch textile dome tweeter. The system is rated for 180 watts peak or 60 watts of continuous power. Thanks to smartly-designed steel mounting adaptor rings, the JBL GTO629 coaxials can be mounted in various hole sizes from 6 to 6.75 inches.
The minimum mounting depth is approximately two inches, so these speakers will fit likely fit in any door. If you would like to surface mount the speakers on the top of your door, you will be happy to know a lovely set of grilles is included along with all the required mounting hardware. The speaker wire sold separately.
25–180 Watts Suggested Amplifier Power Range
 JBL engineers designed the JBL GTO629 coaxial speaker to produce sharp, clear sound from a head unit or amplifier capable of delivering up to 180 watts of power. This makes the JBL GTO629 an ideal match to systems powered with head-unit or factory amplifier power levels.
Even better, the speaker fits many of the GTO Series amplifier combinations. Hence, it can keep up with systems that feature one or more subwoofers. And its excellent power-handling specifications increase reliability over the lifetime of the speaker.
Patented Plus One woofer – Cone Technology
The JBL GTO629's Plus One carbon-injected cone provides more overall speaker cone area than other similar cones. The speaker radiates more air with an effective increase in the cone area. Its carbon- injected cone material results in a stiffer and lighter cone. This results in a better low-frequency response and seamless production of important musical notes that people often associate with larger speaker sizes.
Carbon – Composite Non-Magnetic Frame
On the off chance that you are looking for a durable speaker, the JBL GTO629 is what you need. Our Carbon-Composite, non-magnetic frames maintain their precision and integrity even under the most demanding conditions.
True 4 Ohm Technology
Three-ohm voice coils in the JBL GTO629 speakers allow compensation for any added resistance by thin factory-installed speaker wiring. They also offer more output than similar factory-installed speakers.
Vented Magnet Assemblies
The presence of vented magnet assemblies in the JBL GTO629 cools the voice coil. Thereby increasing reliability from a higher power handling and eliminating power compression that can distort the speakers' sound.
Frequency Response to 21 kHz
A wide frequency response that extends beyond 20 kHz helps to compensate for speaker placement variations in your vehicle and for human hearing deficiencies in the high-frequency spectrum above 15 kHz. The result is that the JBL GTO629 speakers provide more of the full-range frequency response associated with quality sound.
High Sensitivity (93dB@2.83V/1m)
High sensitivity lets a wide range of power to deliver quality sound without the audio system getting overdriven. With a 93 decibels sensitivity at 2.83 volts/1 meters, the JBL GTO629 6- 1/2" speakers achieve great musicality and volume with as little as 5 watts RMS. Hence delivering an overall better performance with moderate power driving the speaker. Better performance makes the speakers a perfect replacement for factory speakers and for any aftermarket speaker installation.
UniPivot and Adjustable Tweeter Level
The JBL GTO629 feature UniPivot; an innovative feature that enables the tweeter to be aimed at the listening location for high-frequency response at the listener's ear and better stereo imaging. You can as well easily adjust the tweeter output from 0 to +3 decibels to make up for off-axis and low mounting positions or road noise.
Edge – Driven, Soft- Dome Tweeter Diaphragms
The edge-driven, soft-dome tweeter design in the JBL GTO629 boosts power handling while decreasing high-frequency distortion. Edge-driven tweeters also have better distribution features and allow a lower crossover frequency, which improves imaging. Thereby delivering clarity and better vocals in your music. There is no sense having it loud if it does not sound clean, too.
Speaker Grilles and Adapter Mounting Rings Included
The JBL GTO629 speakers are equipped with an extra set of mounting adapter rings to enable the speakers to fit nicely in a broad range of factory speaker openings that match this size. Also, attractive black metal mesh grilles are included to protect the speaker whenever it's mounted in a location requiring a grille.
Size Classification Note
The JBL GTO629 speakers are marketed as 6-1/2″; they'll fit standard 6-1/2 speaker openings, but do not make use of the industry-standard bolt pattern. Without using an adapter bracket or drilling new screw holes, the speakers fit several standard 6-3/4 applications. The included metal brackets adapt the speakers to standard 6-1/2 three-hole and Ford non-symmetric four-hole patterns. With new holes drilled in the mounting surface of the car, no brackets would be needed. Brackets are also included that fit select oversized 6-3/4 installations in a variety of vehicles.
What's in the box?
Two 2-way speakers
2 Grilles
2 Plastic 6-3/4 adapter brackets
2 Metal adapter rings
2 JBL logo badges
2 Adhesive-backed foam gasket strips
Eight 1-3/8″ Self-tapping Allen head screws
3mm Allen head bit
Eight 1/2″ Self-tapping screws
Eight M3x10mm Machine screws
8 Speed clips
Instruction manual
Conclusion
JBL has been producing high-quality good-sounding speakers for a very long time, and the JBL GTO629's follow in that pattern. These are well-made, good-sounding speakers with some of the best mid-range performance at an affordable price. You can check them out at a JBL retailer near you and let a trial convince you!