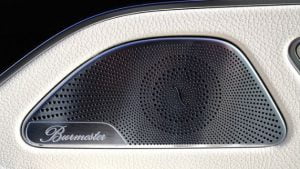 There is a high probability that you won't get the bass you are looking for in your car. Usually, car manufacturers primarily do not install the best speakers inside your vehicle. So, it's upon you whether or not you could do with a speaker that won't provide as much bass.
Now, if you are out hunting for the best cheap speakers for car audio, you've just entered speaker system heaven. Here, we'll provide you all the information and intel you need to understand the product to help you decide properly.
So, let's not delay any further and jump right into the reviews.
Top 10 Best Cheap Car Speakers Review
We either go big or home, which is why we are going to talk about not only one or two but ten of the best affordable car speakers available in the market. So, let's get started.
1. 

Pioneer TS-A6880F Coaxial Audio Car Speakers
Highlighted Features
Remarkable sensitivity and high-frequency range
Allows listeners to continuously experience sound with crystal clear clarity
Reinforced carbon construction and IMPP cone allows quick response
Guaranted enhanced durability and reliability of the product
Low impedance and high power handling
It can draw out high power and also makes sure that it is more than capable of handling it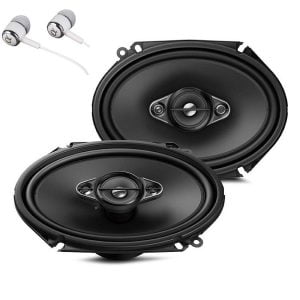 Specifications:
Frequency Response: 34 Hz to 34,000 Hz
Sensitivity Factor: 88 dB
Power Handling Capacity: 350W (peak); 80W (RMS)
Pioneer, as the name suggests, is one of the pioneers of the sound appliance universe. And, their product, the TS-A6880F, guarantees quality as well as performance even at the highest or lowest frequencies.
This is achieved because of the big frequency range of the product, which lets it create a wide range of sounds at different audible frequencies. Hence, making it one of the best car coaxial speakers.
Furthermore, its high power-handling factor lets it endure high loads and, hence, has the capacity of transmitting various sounds at various levels without breaking a sweat.
And, when this coupled with its low impedance rating, the product is capable of continuously producing a different pitch, volume, and frequency of sounds with remarkable efficiency.
The sensitivity factor of the speaker allows it to extrapolate the electrical impulses and into sound with high accuracy. Hence, the item gives you continuous sound with remarkable quality.
Also, the innovative injection modeled polypropylene material used in the cones resists noise, distortion, or other types of disturbances. Hence, this thing allows you to experience each note with crystal clear clarity and smoothness.
Finally, its optimized motors are capable of rotating or providing vibrations that can match the electrical pulse. Therefore, the electrical signals that are inputted are accurately and quickly converted into the corresponding sounds.
Our Verdict: If you are fed up with conventional speaker systems, then this product is a great choice if you plan to enhance the overall performance of your car's sound system as well as the sound quality.
---
2.

JBL Stage 600C 300W Max 2-Way Component Car Audio Speakers
Highlighted Features
A perfectly balanced tweeter that delivers a smooth sound experience.
Woofer cone made of polypropylene is used in stage speakers resulting in increased sensitivity and also a more robust quality.
The polypropylene cone is injected molded, which makes it even more superior.
Ease of power handling, along with decreased distortion and sound with spacious highs.
Transitions between different frequencies are smoother than most other speakers.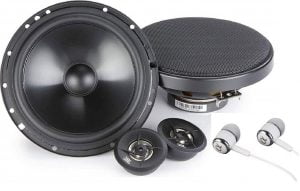 Specifications:
Sensitivity: 90db
Frequency range: 50-2000 Hz
Top-mount depth: 4 ohms impedance
Power: Peak of 300 Watts
The JBL stage 600C is a product that will leave you wowed with its rich quality sound and creamy bass. It will give you that complete enjoyable sound experience with a price that will not make you work too many extra hours!
A 6-and-a-half-inch woofer is featured in the Stage 600C, which will provide you with that oomph like sound that is so responsive and gives that extra pump.
This 2-component car speaker also includes a separate dome-shaped tweeter which will make your sound experience more real than ever before with its crispness and smoothness. It is also quite sensitive, with the sensitivity of 90db which is near perfect for most users. Hence, it is safe to say that is the best budget car component speaker.
Our Verdict: The JBL 600C stage car speaker is a splendid choice for most of you out there, and the best part is that it comes with a compelling price tag. Two tweeters and two woofers come along with the package, further making it easier to recommend. To top it all off it also comes with a FREE alphasonik earbuds! So, without any hesitation, we will say that you will not regret spending your money on the JBL 600C.
---
3.

BOSS Audio Systems CH4630 Car Speakers
Highlighted Features
Low impedance rating allows it to draw more power and produce higher notes
Its vast frequency range allows the product to create a wide range of audible sounds
Poly injection of the system reduces the noise and distortion by a great extent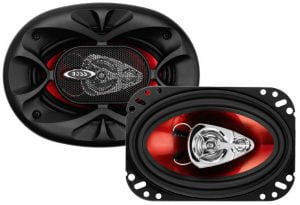 Specifications:
Impedance rating: 4 ohms
Mounting-depth: 1 to 1.75 inches
Sensitivity: 90 dB
Power: 250 W (peak)
Frequency Response: 100 Hz to 18kHz
Who wouldn't like a top-grade audio speaker in their car? But, many are hesitant due to the hefty prices of a top-notch sound system. Well now, with Boss's newest creation, the CH4630, everyone can enjoy experience amazing sound quality from the top-notch and durable product at the most affordable prices.
The speaker's resistant to heat voice coils can withstand and resist very high temperatures. Therefore, it can work for a prolonged time and can function normally under stress as well as increases the durability and reliability of the product.
Its high power handling rate means that the product can produce a high power output and, hence, the higher the power output, the louder the sound. Plus, its big frequency-response range and sensitivity allow the speaker to produce continuous sounds at a wide range of frequencies with high accuracy.
And, its low impedance allows the speaker to withdraw very high currents and, hence, is the dominating factor for the product to draw out more power. Also, its poly injection cone allows it to minimizes the noise effect. Thus, all these attributes can be enjoyed at the most affordable prices, making it one of the best cheap car audio speakers in the market.
Our Verdict: This product is cheap but provides the functionality and sound quality of those expensively priced, branded ones. Furthermore, this thing is super durable and reliable and, hence, is a great one-time investment.
---
4. Rockford Fosgate R165X3 6.5″ 180W 3 Way Car Audio Coaxial Speakers Stereo
Highlighted Features
EVC technology for clean and crisp bass
Polypropylene cones that give superior rigidity.
Thick polypropylene woofer, which gives that extra punch of clarity.
Neodymium dome-shaped tweeter.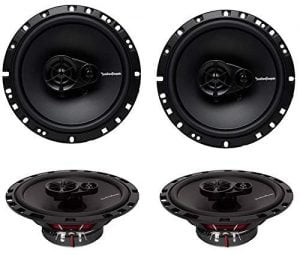 Specifications:
Frequency response: 40-20000Hz
Top-mount depth: 3.3 ohms
Peak power: 300 watts
RMS: 100 Watts per speaker
Sensitivity: 90db
Next, we have the all-new Rockford Fosgate R165X3 for you all car junkies out there. This product will deliver your crystal-clear bass with a high reduction of distortion for a more immersive sound experience. It is also very robust, and as customers say, it is perfect for door mounting.
What sets this product apart from the rest of the speakers in the market is its inclusion of Extended Voice Coil (EVC) technology. It makes use of the strong magnetic motors to give you the top-quality sound.
The cones in this speaker are also made from polypropylene, giving it the rigidity and toughness. Not to forget, the New Rockford Fosgate's surrounds are UV treated for the precision in the linear excursion.
This speaker is a 2-component speaker like many other speakers in this category and it features quite the impressive tweeter, which is zero protrusion, by the way, so you get all the clarity you need. It is among the best car speakers for its sound delivery.
Our Verdict: Although the Rockford Fosgate has a bit of extra weight, the pros outweigh the cons by a large portion. It's technological advancements, clarity, superb bass makes it an amazing choice for most of you all. Therefore, we recommend this product without a single stutter.
---
5.

CT Sounds 6×9 Inch Coaxial Car Speakers
Highlighted Features
High-frequency response and sensitivity allowed the speakers to make continuous, high-quality sounds
Its RMS power of 60W or 120W (peak) enables the product to produce high volume sounds
The low impedance rating provides it the ability to extract from data power for higher and better-quality sounds
Injection-molded dome, fiberglass, and rubber covering of the product reduces noise and distortion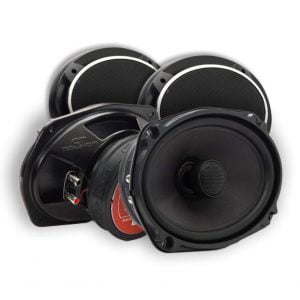 Specifications:
Sensitivity: 89 dB
Frequency: 40Hz to 60kHz
Power Rating: 60W (RMS); 120W (Full)
If the bass is what you like, then you have stumbled upon one of the best cheap car speakers for bass in the company. Firstly, the speakers have a black stamp steel basket along with fiberglass and, rubber covering reduces noise and distortion and enables you to listen to a sound crystal clear.
The item has an improved design with higher power handling. This allows it to draw out more power and produce higher-scaled sounds with clear as crystal quality. And, the product is lightweight, compact and has a mounting clearance good enough for it to be installed in all types of cars, SUVs, trucks, etc.
Its Woofers have a huge frequency range as well as a very high power rate. So, the product can draw high powers with ease and, them convert them to audible sound that can range from 40 Hz to 6kHz.
And, its tweeters have a sweep potential difference of 2.8 volts and, also, like the woofer, the tweeters also have an impedance rating of 4 ohms. So, the treble speaker of the CT sound's Meso can produce top-notch high-pitched sound at exceptional clarity.
Our Verdict: This bad boy can produce high-quality sound, especially low-frequency sounds called bass. And, its high durability, reliability and minimized noise effects will make it worth all buck.
---
6.

INFINITY Kappa 682.11CF Car Audio System
Highlighted Features
Its high power handling factor allows it to withstand as well as draw out large powers for better sound quality at different scales
The Fiberglass cones, rubber surrounding, etc. of the product, reduce the noise or other sound disturbances and increase clarity
High-frequency response and acute sensitivity enables it a quick response
Can create continuous waves of sound at different frequencies
Starfish like mounting allows easier installation in any car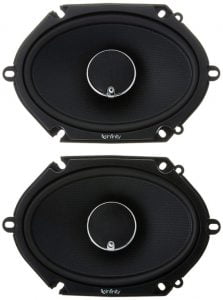 Specifications:
Frequency response capacity: 75Hz to 25,000Hz
Sensitivity Factor: 94 dB
Power Rating: 5-85W (RMS); 125W (max)
Good sound quality means reduced distortion, noise, and remarkable clarity as well as accurate pitch. And, if you are looking for a product that can ensure all of these, then infinity's kappa 682.11CF, considered as one of the best audio speakers for sound quality, is the perfect match for you.
The product's high effective-frequency and remarkable sensitivity enable it to quickly respond to a signal. Also, it allows the product to create sound waves with various frequencies. Hence, you can experience sounds that are high and low, pitched with great accuracy and, without any delay.
Furthermore, the product's high power handling factor lets it draw a large quantity of electrical current. And, hence, allows it to produce sounds with high volumes and clarity, effortlessly.
And, finally, the fiberglass cone along with the hi-roll rubber surround prevents all types of sound disturbances such as noise, distortions, fluctuation of the produced sound wave, etc. Therefore, it lets you hear high-frequency sounds or low-frequency ones with little or no form of disruption or haze no fazing effect.
Our Verdict: This product's great sound quality, coupled with remarkable clarity, will keep getting you hooked to it. And, its starfish mounting and other fitment accessories ensure easier and quicker installation.
---
7.​

KICKER CSC65 Car Audio Coaxial Speakers
Highlighted Features
PEI material used in making the cones reduces all types of disturbances and increases the clarity of the produced sound
The big mounting clearance allows the efficient and effortless installation of the product
Effective frequency range and acute sensitivity enables it quickly and continuously process the electrical signals into sound
Exceptional high-power handling rate provides the capability for the product to produce volumes from the highest-to-lowest ends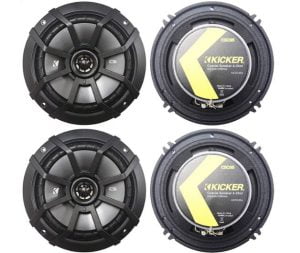 Specifications:
Resistance/impedance factor: 3.3 ohms
Frequency range: 40Hz – 20,000Hz
Power rate: 300W (peak); 100(RMS)
The company Kicker is known for its high-priced but remarkably functional and as well as high-quality sound-emitting capabilities. And, if you are not held back by prices, then kicker's latest product CSC65 is one of the best high-end audio speakers.
If you are paying more, then you obviously expect more. And, the item's high-power handling factor is more than what conventional speakers are capable of. This enables it to draw out higher power as well as withstand the high-power surge and, hence, lets you experience all kinds of sounds at different levels.
And, when this is coupled with its low impedance or DC resistance, the product is more than enough for withdrawing high current as well as power for generating different pitched sounds accurately and without any delay.
In addition to that, the things acute sensitivity ensures a better response. Hence, it can efficiently and accurately extract and process the electrical signals into continuous sounds.
And, lastly, the cones are made of polypropylene along with rubber surroundings which enables it to cut-off noises and distortions and allow you to hear crystal clear sound even if the frequency is very high or too low.
Our Verdict: When you buy something expensive, you expect performance from it, and we guarantee that this product lives up to your expectations! It can produce different frequencies of clear and high-quality sounds. And, in addition to that, its easy installation will let you to quickly and effortlessly install the product in your car and enjoy its perks.
---
8. ​

JBL GT7-6 6.5″ 2-Way GT7-Series Coaxial Car Audio Speakers
Highlighted Features
The product's low impedance rate allows it draws high current and, ultimately, draws higher power
Its polypropylene surrounding reduces distortion as well as noise
The PEI tweeters produce high-pitch sound
Its top-mount ensures high clearance and, hence, can be installed in almost all cars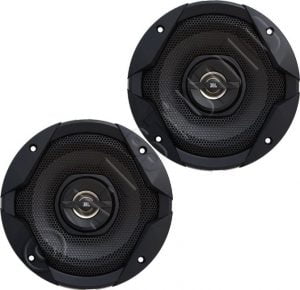 Specifications:
Power Yield: 270-watts (peak)/ 90-watts (RMS)
Frequency Response: 55-20,000 Hz
Impedance Rating: 4 ohms
Sensitivity: 93 dB
JBL is one of the most well-known companies for producing top-notch speakers and headphones. And, their latest, the GT7 is worth all your buck. The product's low impedance allows the masterpiece to withdraw high current and, hence, enables it to produce higher power for better sound.
And, it has a Power Handling rate of 270 Watts per pair (Peak) or 90 watts per pair (RMS) which, plays a substantial role in the product's capacity of continuously withstanding such high power.
Furthermore, its vast frequency response range allows the speakers to create audible sounds of various frequencies. So, it is capable of producing all of them with remarkable clarity.
Next, its PEI tweeters also, known as polyetherimide, make sure to produce high-pitch sounds. And, the polypropylene used in the speaker reduces distortions and noises and, all its other qualities make it one of the best budget 6.5 car speakers in the market.
Finally, the product has a high sensitivity rate. So, the product quickly produces the electrical signals and produces the corresponding sound with extreme accuracy.
Our Verdict: The product aces most speakers when it comes to the range of frequencies as well as the clarity and audible factor! And, the noise and distortion cancellation of the product ensures that you can experience a sound of any sort and any frequency with minimum disturbance.
---
9. ​​

B

laupunkt 6 x 8-Inch 300W 4-Way Coaxial Car Audio Speaker
Highlighted Features
A low impedance rating of the item enables it to draw high power
Top-notch quality used in making the speakers gives it added durability and, hence, reliability
Its high-temperature aluminum coil won't be affected in case of overheating
Mylar Dome Tweeter allows produces higher-pitch sounds with better quality
Specifications:
Power Outage: 300W (peak)/ 120W (RMS)
Frequency Response: 50Hz – 20kHz
Sensitivity: 90 dB
Impedance Rating: 4-ohm
When it comes to excellence and functionalities, few brands can stand toe to toe with the Blaupunkt. And, their new product, the GTX680, is arguably one of the best quality car speakers in the business.
The product is capable of outputting a very high power and, hence, produces a wide variety of audible sound for all types of users. In addition to that, the product has a polypropylene covering. This covering reduces noise and distortion, so, will enable you to experience any sound with crystal clear quality.
Apart from high power output and low disturbance, it is also has a foam surrounding including, a Mylar foam. These enhance the low-frequency sounds and ensures that any bass coming from the speaker doesn't sound distorted or hazy.
It is made of top-notch material, which increases its reliability and durability. Also, with its big effective frequency range along with acute sensitivity, this thing is more than capable of withstanding high-power electrical signals for a prolonged time as well as guarantees to produce various audible sounds at different levels.
And, its good mounting dept ensures enough clearance for the product to be fitted in all types of cars, SUVs, trucks, etc.
Our Verdict: This speaker is a great choice if you are looking for clarity and sound quality. Its low impedance and polypropylene cones ensure better, much clearer sounds as well as sound on different frequencies.
---
10. ​

Pair of Pioneer 6-1/2″ 6.5″ 2-Way 300 Watt Coaxial Car Audio Speakers
Highlighted Features
It has a very high-power handling rating, making it great for high volume sounds
Injection-molded polypropene layer on the speaker gets rid of the noise and disturbances
Lower impedance rating is the reason why it can draw substantially high current and power
Versatile mountings for easy installation
Balanced-domed Tweeter of the device allows you to better hear treble or high-pitch sounds more clearly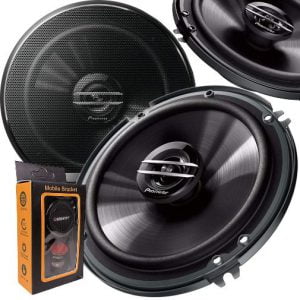 Specifications:
Power rating: 600-W (peak) / 80-W(RMS)
Impedance Rate: 4 ohms
Top-Mounting: 1-3/4 inches
Weight: 3.08 pounds
A car's audio system can be expensive! And, when you are purchasing something high-end, you expect it to excel and as well as ensure remarkable durability and reliability. And this one does all that. Pioneer's TS-G1620F ensures all the attributes stated above, and many more.
The speaker has a unique type of cone. Its injection-molded cones minimize noise and distortion exponentially. So, the sound produced by the product doesn't sound distorted or hazy, even in high volumes. Now you know why this masterpiece is considered as one of the top-rated car speakers.
And, its high-power handling factor, allows it to withdraw large amounts of power. Hence, it enables it to produce sounds corresponding to the withdrawn power. Also, the product can keep working on a high load for prolonged times.
Unlike many speakers, this thing doesn't have flashy components to reduce inefficiency.
Instead, manufacturers have used a different method, which is properly polishing and smoothening-out the contraption to reduce friction and hence, increase efficiency.
And, in doing so, the item makes sure that noise or distortion is further reduced.
Our Verdict: This speaker guarantees great quality as well as durability. And, if you enjoy a good bass, then this product is going to become your favorite after a single-use.
---
Buying Guide for Most Affordable Car Speaker 
A few considerations have to be made before buying the best cheap speakers for car to ensure that you are happy with the purchase.
First things first, you have to be sure whichever item you are buying is compatible with your vehicle. Check the specification of the particular product you are interested in online or in stores.
This is one of the most important aspects you have to think about when you are out on the mission of buying a speaker. This thing is used to listen to class lectures and revising inside the car before an exam or simply while talking over the phone via Bluetooth.
So, you should get a speaker that has a big range of frequency because that is what makes the sound quality good.
There are mainly two types of speakers available. One is a component speaker and the other is a full ranged one. If you purchase a component speaker, you'd see that the tweeters and woofers come separately.
This allows better movement of the speaker, and hence the sound quality is excellent. But this particular kind is quite expensive.
A full range speaker, on the other hand, is comparatively cheaper. In this system, the woofers and tweeters come as a whole. So, the sound quality wouldn't be as good as a component speaker but is a great alternative for those who are on a budget.
This is basically the amount of sound generated by a speaker with the power supplied to the item. A low powered car sound system would need a highly sensitive speaker to ensure fine sound quality. So, accordingly, a low sensitive speaker rating is ideal for a high-powered audio system.
Picking Between 2-Way And 3-Way
The coaxial speaker is another name for a 2-way speaker. This item comes with two of the speaker components; the tweeter, which is responsible for generating the high tones, and the woofer, which produces the bass.
A 3-way speaker comes with both of the units and an additional mid-range unit. The sound quality in this type of speaker is much clearer as it has the capability of generating low and higher frequency sound.
Final Words 
Don't get intimidated by all the options. It's not that hard to choose a speaker. You have to list down what you are looking for and pick it accordingly. Now, which one do you consider to be the best cheap car speakers.
We hope that we could help you out with this article. If you still have any confusion and questions left, let us know in the comment section below.
As an Amazon Associate I earn from qualifying purchases