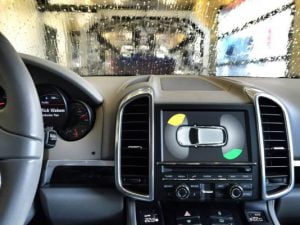 We all love those long drives on peaceful roads. But they won't feel complete without an exemplary audio system playing your favorite cassette. Having a quality stereo will ensure you get that immersive experience as it will enhance your audio system.
Fortunately, you can get your hands on some of the best stereos quite easily. Many modern ones offer tons of features while staying at the affordable range. However, if you're not careful enough, you might end up with absolute junk.
You obviously want the best car stereo for the money. Just take a look at our top picks that we've selected after going through the rigorous process of researching and testing the products. You'll know exactly which one to go for!
If you're Hurry, Make Quick Decision of Budget Single Din Car Stereo:
1. JVC Built-in Bluetooth Car Stereo – Best Single-Din Car Stereo Under $100
2. Pioneer MVH-S21BT Single Din Stereo – Best Bluetooth Cheap Car Stereo
3. JVC KD-X260BT Digital Media Receiver – Best Single Din Value for Money
4. BOSS Audio Systems 616UAB Car Stereo – Top Rated Single Din Under $50
5. Aigoss Bluetooth Single Din Car Stereo – Best Cheap 1-Din Car Stereo
If you're Hurry, Make Quick Decision of Budget Double Din Car Stereo:
1. Pioneer AVH-210EX in-Dash 2-DIN 6.2″ – Best Double Din Value for Money
2. BOSS Audio Systems BV9358B Car DVD Player – Top Rated Stereo Under $100
3. Kenwood Double-DIN Car Stereo Receiver – Best 2-DIN Head unit under $200
4. Kenwood DPX502BT Double-Din CD Receiver – Best Budget 2-DIN Car Stereo
5. H*Sheng TPK Double Din Car Stereo – Best 2-Din Car Stereo under $50
Editor's Choices of Best Cheap Car Stereo
We've chosen the JVC KD-R792BT for Single Din & The Pioneer AVH-210EX for Double Din as our most favorite car stereos. Each of them is filled with absolutely amazing modern features and provides killer sound quality. They offer the best value for money. You will not regret if you decide to go with any of them.    
Best Budget Single Din Car Stereo 
1. JVC Single-Din Built-in Bluetooth Car Stereo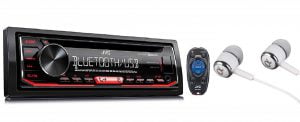 JVC is a renowned brand, and their car stereos are known to be first-class. The sound quality produced by this unit is sure to impress any music lover. Install this onto your vehicle's dashboard and enjoy listening to recordings on the go with no single issue!
It provides awesome sounds tweaking options through its 13-band equalizer, allowing you to manually adjust the sound to your liking. Even if you don't know much about equalizers, don't worry because there are 11 properly made presets that can you freely use. Each of them gives a different listening experience.
The incredible Bluetooth technology comes with multiple convenient features that set this device apart from others on the market. It allows you to connect two smartphones at once through simple pairing.
You can sit back and relax as it will play your favourite recordings one after another. The advanced searching system enables you to manually select any recordings of your choice.
It supports HPF 1.6 Wideband Speech so you can speak through your phone without having to use your hands. The reduced noise will ensure the highest quality of voice.
An amazing feature is its "JVC Remote" android app that provides easy control of the stereo right from your smartphone from a distance. Along with the modern features, it also supports CDs so you can insert your mixes and start playing right away!
Besides, the AM/FM tuner allows you to listen to any radio channel with top-notch audio quality.  You can monitor everything through its clear LCD display. It also enhances controllability.
Our Verdict: A fittingly modern instrument for your car designed to give a magnificent listening experience. Its top-notch features and competency make it deserve the first place on our list. We can go as far as calling it the best budget car stereo.
2. Pioneer MVH-S21BT Single Din Stereo 

Relish the hands-free calling and streaming using this wonderful device thanks to its built-in Bluetooth tech. Pair it up with your smartphone within seconds, and you're given complete control over the stereo. Wired connections are nuisances of the past eliminated by technology like this.
Don't worry if your smartphone runs out of charge as this one allows you to recharge your phone using its single USB input. You'd be impressed with its AM/FM tuner as you'd be able to stream any radio channel instantly.
The ingenious MOSFET amplifier smartly conveys 50 watts of power to the speakers, which helps to produce a crisp and exceptional sound.
This device itself has straightforward, smooth control buttons through which you can search, select and change tracks or adjust the volume in addition to the wireless controls.
Its VA LCD display is designed to provide serene visual made easy with LED backlight. As a result, you'd find it super easy to keep track of everything.
Equipped with an internal mic and HFP technology, you can pick up calls, speak to people on the other side without having to hold your phone using your hands. You'd have no complaint about the voice quality as it's tested to be excellent!
Coming at a rather inexpensive price, it's definitely worth every penny. We consider this to be the best car stereo under 100. This unit is extremely simple and does exactly what its supposed to do. You would find it to be super easy to use.
Our Verdict: Its simplicity in delivering its services makes it an amazing choice. If you don't like complexity, this is definitely the one you should go for.
3. JVC KD-X260BT Digital Media Receiver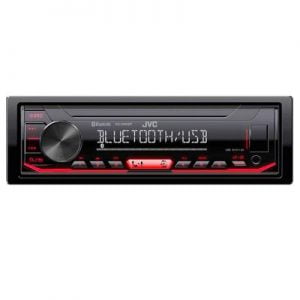 We've got another one from JVC, and it's a terrific product. This is actually one of the best budget Bluetooth car stereo units on the market. That's because you can freely connect two smartphones simultaneously via Bluetooth 3.0 network.
At the push of a button, you can pick up calls and communicate absolutely hands- free by utilizing its HFP system. You'd be able to hear everything clearly, and your voice will be delivered through its internal mic to the other side, all without ever having to hold the phone.
It smartly accesses your phonebook, which displays the caller information so you won't even have to look at your smartphone!
For android devices, it offers Pandora, Spotify, and iHeartRadio controls. You can smartly tweak the sounds setting to fit your taste through its 13-band equalizer that comes with 11 presets. Play any radio channel as it offers improved FM/AM tuner.  
After easy pairing, you'd be able to stream directly from your mobile phone and control everything. Changing tracks, pausing or stopping, selecting artists, etc. can be done conveniently from your smartphone. However, you can do all that through this gadget's manual buttons.
Just like the first JVC stereo on our list, it also features the "JVC Remote App," which improves its controllability.
For enhanced digital sound quality, it features state-of-the-art K2 technology, which expands the range of frequency. You're guaranteed a mesmerizing listening experience.  
Our Verdict: This is a very simple yet extremely convenient stereo made for cars. That's exactly why we love it! It excels at doing what it promises to do and more while retaining its easiness in operation.
4. BOSS Audio Systems 616UAB Multimedia Single Din Car Stereo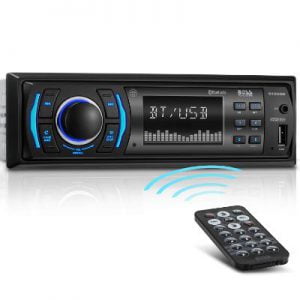 Tune into your favorite radio station using this equipment which is capable of giving you the best experience. It has earned a considerable reputation from the users by being an outstanding stereo with marvelous features.
It allows easy connection to any smartphone through its auxiliary input or the USB port. However, the Bluetooth technology is one of the reasons that make it an excellent product through which you can pair up the device with smartphones instantly. Once paired, you're given total control.
This one offers built-in preset EQ. As a result, you can swiftly switch between a various style that suits your taste the most.
You can make hands-free phone calls thanks to the wireless tech, reducing the chances of accidents. It allows the streaming of various services like Spotify and Pandora.
The LCD display designed to boast a techno look while being visually clear. Dimmable illumination buttons give it a modern vibe. With the dancing LED lights, your car interior will feel like a dance club!
For a low-priced gadget, it packs a lot of features that are almost comparable with really high-end units.
Our Verdict: The fact that multitudes of high-quality features are included in a low-priced kit makes it a great choice if you want value for money. The low price doesn't hurt its competency at all. We were pretty impressed with it. It can be safely considered as the best cheap car stereo.
5. Aigoss Bluetooth Single Din Car Stereo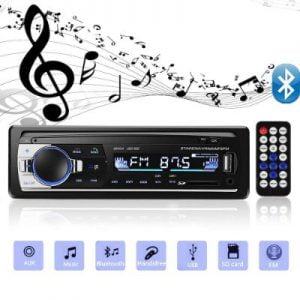 We've got a multi-functional instrument to deliver outstanding sound experience and exceptional stereo sound while being surprisingly cheap. It is, in fact, one of the best cheap Bluetooth car stereo devices on the market.
Besides providing remarkable audio, it will allow you to charge your devices on the go using the USB input. The Aux input enables you to hook up multiple gadgets like GPS and music players.
Savor the ability to speak over the phone without having to remove your hands from the steering wheel or taking your eyes off the road, courtesy of the seamless Bluetooth connection and microphone. Additionally, you can simply switch between recordings, pause, adjust volume, etc. all by using your smartphone as a remote controller.
Even if you don't have your smartphone handy, you can simply insert your SD card using a card reader into the USB slot, and it will play the recordings from there. It comes with a remote controller to allow controlling without having to reach manual controls.  
If you prefer old-fashioned controlling, it comes with multiple buttons located on the instrument itself. The multiple EQ selection provides you with the opportunity to choose different sound settings.
It boasts a perfect radio reception through which you can enjoy listening to various FM channels broadcasting news or traffic updates!
Make your car journey far more enjoyable with its superior sound quality. Just play your favorite playlist and let the machine do its job!
Our Verdict: This one packs a surprising number of features and offers truly magnificent quality even though it's highly affordable. It managed to satisfy us and we're confident it will satisfy you just as much!
Best Budget Double Din Car Stereo 
6. Pioneer AVH-210EX in-Dash 2-DIN 6.2" Touchscreen DVD Receiver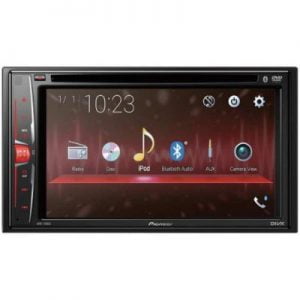 If you want more touch of modernism in your car stereo and just wireless technology isn't enough for you, allow this touchscreen gadget to satisfy you. Considered as the best double din head units, you'd enjoy its extremely easy-to-use interface and convenient features. Even with all these innovative features, it still comes at a surprisingly low price.
The built-in Bluetooth almost instantly pairs up with mobile devices. Have fun listening thanks to its crisp and clear audio with superior quality. Play CD/DVDs or FM radio almost effortlessly! It's compatible with the majority of the smartphone devices.
This one offers a 6.2-inch touchscreen which is completely free of lag and very responsive. The menus are super easy to navigate through visual aids. Besides, the colors are completely customizable and boast RGB, so it will give your dashboard an attractive look.
The adjustment of settings will feel like a breeze with its 13-band graphic equalizer. You can play around with it a bit to find your perfect sound.
You won't have to take your hands off the wheel to receive calls or talk on the phone as its Bluetooth technology is extremely competent. Additionally, you can install controls directly to the wheel! The inbuilt microphone will make sure whoever you call hears you clearly.
Stream directly from your phone or various streaming services without a wired connection. You can even watch movies on it or send the output to the rear seat screens.  
Our Verdict: The reason we like this is because of its first-rate touchscreen, something that is rare in products of this price range.
7. Kenwood Double-DIN In Car Stereo Receiver

Kenwood is known for making impressive stereos. This double DIN unit is nothing short of amazing as it will ensure that you get the most out of your audio device. You can be confident in its ability to produce excellent sounds while offering multitudes of modern features.
This unit offers easy installation so you can set this up with no hassle. Once installed, pair it up with your smartphone via Bluetooth and voila! It's that easy!
From here on out, you can stream recordings straight out of your mobile phone, even if you're far from the dashboard. Additionally, it supports Pandora and iHeartRadio so you can directly stream from those streaming services as well.
Besides, it supports CDs so you can pop one of them loaded with your chosen stuff, and it will play right away.
Be it your favorite audiobook or FM radio playbacks, you will enjoy the superb sound quality. Just make sure you don't get so immersed that you lose concentration from the road!
By utilizing the wireless network, you can call, reject, redial through convenient means that do not require you to take your hands or eyes off. So, you can drive and talk at the same time without breaking the law.
The 1.5" display offers 24 color choices for button and LED display. You can customize to your liking! You'd get free ALPHASONIK earbuds with it.
Considered to be the best double DIN head unit under 200, you can safely decide to go with it.
Our Verdict: It's a splendid device, capable of delivering exactly what it is designed to do. Each of its features is very convenient and adds value to the already-functioning product.
8. BOSS Audio Systems BV9358B Car DVD Player - Double Din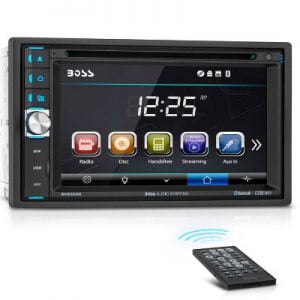 If you prefer the convenience born by LED touchscreen stereos for cars, this one will be very suitable for you. You'd be right to expect decent quality from a product made by BOSS.
With its large 6.2" display, you can watch movies while parked or divert the output to the rear screen for others to enjoy. The DVD player is competent enough to handle any DVD.   
It will easily pair up with any smartphone device via Bluetooth, which eliminates the need for wired connections. However, you can charge your mobile devices by utilizing its USB input.
You can even listen from streaming services like Pandora and Spotify with this one. To control the tracks and volume, you won't have to reach the stereo itself. You can do that using your smartphone.
Bluetooth allows wireless hands-free calling. The microphone will deliver your voice to the other side, and you'd listen to them loud and clear.
The user interface is visually impressive and allows super easy control. Even children would find no trouble it browsing through the menu.
Just like other smart gadgets, it comes with an equalizer to customize the way the sound is delivered so that you can tweak it to what suits you the most.
Our Verdict: This is the best budget touch screen car stereo in our opinion. The touchscreen control is buttery smooth. You can't get such a sweet combination of features and functionality in products of this price range.  
9. Kenwood DPX502BT Double-Din CD Receiver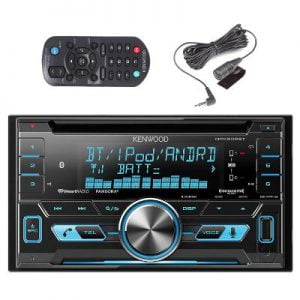 This full-fledged double DIN unit is more than a simple stereo. It has a multitude of special features, an attractive design, and convenient controls. You'll be offered a fitting digital experience through its brilliant sound quality.
It actually managed to be claimed as the best budget double din car stereo by numerous users. You will know why shortly.
The machine itself looks premium and stylish at the same time. It is sure to turn heads as your dashboard will look cooler. Its multiline LCD provides an incredibly clear visual of the system. Bright colors are added to make everything easily readable. It even comes with a digital clock!
Through the utilization of its maximum output of 50WX4, this tool can provide phenomenal sound. You can tweak its 13-band equalizer to create your preferred style of audio output.
This unit is compatible with CD, CD-R and CD-RW so you can play audiobooks that you burnt into a disk.
It obviously features Bluetooth technology just like other modern devices so you can pair up your mobile devices wirelessly and stream recordings straight away. As it boasts a fine radio system, you can live stream radio channels without any wired connections too!
You'll enjoy the fact that you won't have to hold your phone to your ears while driving anymore once you're equipped with it.
Our Verdict: This stylish looking unit provides incredible features without placing any big impact on your bank account. You can safely go for this stereo as it will surely exceed your expectations.
10. H*Sheng TPK Double Din Touchscreen Car Stereo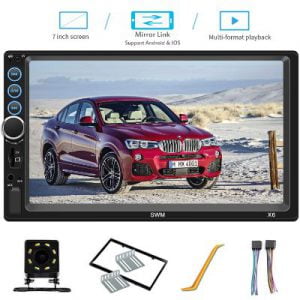 This astounding machine comes at an incredibly low price. It almost feels like a steal considering the features that it offers which can usually be found in more expensive ones. As a result, it can be easily considered as the best car stereo under 50.
The HD capacitive 5-points touchscreen allows wonderful touch controls. You can watch 1080p videos with ease. Besides, it's the display itself is 7-inch large. Moreover, it comes with a free rear-view camera!
It boasts a powerful Bluetooth 4.0 technology which ensures seamless pairing. You can effortlessly stream directly from your mobile phones. It also supports FM radio function, so stay up-to-date with what's happening around you all the time.
For hands-free calling, it is equipped with a high-quality microphone. Combined with the wireless technology, you'd have no issues in communicating without ever having to physically handle the phone. For added convenience, you can swiftly install the steering wheel controls and take care of everything without taking your hands off!
An outstanding feature is its mirror-link system which totally replaces GPS. Once connected, your smartphone's display will appear on the stereo and you'll be able to control your mobile device from there. Turn up the navigation software, and it'll act just like a fully functional GPS!
The USB port can be used to play audio and video files from USB flash drives, and in addition, you can charge your mobile phones.
Our Verdict: Even though it comes at an extremely low price, its features are almost on par with high-end stereos. You're guaranteed an amazing ride without hurting your wallet if you decide to go with this one!
Buying Guide For Choosing The Best Affordable Car Stereo 
Car stereos come in various types. Some are really large, and some are rather small. Their features greatly differ too. So, you'd have to be cautious about selecting your very own car stereo. It would certainly benefit you to take a couple of things into consideration before buying.
Your budget determines what kind and quality of the product you will get. Don't worry if you have a tight budget because lots of incredible car stereos come at a really affordable price. Some are even capable of offering flagship qualities. Of course, expensive ones tend to be more advanced and filled with extra features.
You must check which system your car is equipped with – whether it is a single DIN or double DIN. Once you know that, you've got to make sure your stereo's mounting kit matches your car's. Otherwise, it won't fit. However, you can easily upgrade the head unit to double DIN from a single DIN.
You want these stereos to provide incredible sound quality. However, not all of them are competent enough to do that. So, make sure to test out the sound quality before actually purchasing them.
Make sure your stereo is made to be durable. Nobody wants their products dying on them after a short period. Do a little research, ask around a bit to determine how long they usually last. If the results are adequate, feel free to go for it. Stereos made by recognized brands are usually pretty durable.
Car stereos must be as easy to use as possible. You don't want to go through complex stuff while you're on the go as you just want to mostly sit back, relax, and listen to your favorite radio station. Therefore, it must be very convenient to control.
Bluetooth has become regular features in car stereos. Some older models, however, don't offer Bluetooth. This is where you have to be extra careful. You can easily get one with this wireless feature. So, make sure your car stereo has Bluetooth system.
Extra features are always nice to have. Modern stereos come with state-of-the-art features like touchscreen, video call support, remote control, voice control, GPS, etc. They can be essential as well as convenient.
Conclusion
You will enjoy incredibly awesome sound provided by the stereo if you manage to install the right one. It will definitely add a new level to your vehicle's audio system.
With our extensive review and buying guide, you should now be able to easily find your best car stereo for the money. Rest assured, as none of the stereos on our list are wrong answers!
Real Also: Best Pioneer Car Stereo Review
As an Amazon Associate I earn from qualifying purchases