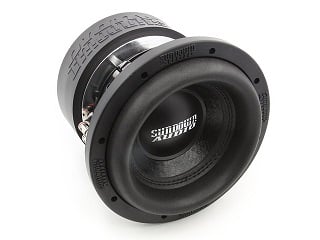 If you want to produce the best car stereo system possible, there is one component that you need to install – a subwoofer.
Whether you listen to rock, rap, jazz, or whatever really, the addition of the best subwoofer for car will bring a level of power and definition to your music that no car speakers could ever recreate
To assist you in finding the best subwoofer for car, and take the sound quality of your audio system to the next level, we have composed a list of 10 Best Car Subwoofers For the Money; all different products and price tags, hopefully, you would find at least one that's just right for you.
Top 10 Best Car Subwoofers for The Money:
The basis on users' reviews, upgraded technology included, user-friendly features and affordable budget. Here we have included the product description, product specifications, and pros and cons of those ten products. So, it would be easy for you to judge all products comparatively. Here we go-
Skar Audio EVL-2X10D4 is a total package of dual 10-inch subs. This subwoofer offers your car audio system to enjoy an ultimate solution for a piece of high-quality music.
A heavy-hitting for a robust bass quality produced in this efficient aftermarket solution makes it possible for your vehicle to be live music enjoying platform.
The unique design of this device is featuring an exact combination of SQ & SPL Low-End Frequencies. The high bass produces in this product very accurate and reliable.
Frankly, if I speak, this device is built for power. It works by 3-inch Copper Voice Coil and a 166oz Double Stack Ferrite Motor.
The High-Roll Foam surrounding EVL-10 makes it's a Low-End Monster! This subwoofer has a fantastic Suspension design engaging a red & single Damper.
Moreover, the two layers spider include in this device, provide our demanded powerful and accurate bass with great responsiveness. In the package of Skar Audio EVL-10, two subwoofers enclosed in a particular Ultra Bass Vented space which is more efficient to deliver the robust, accurate and deep bass tune at any music.
The manufacturer of this subwoofer's series has let some scopes of choosing different packages for their users. Dual 10-inch D4 enclosure with or without an Amplifier. Again Dual 12-inch D4 sub enclosure with or without an Amplifier.
Product Specifications:
Model Name: EVL-2X10D4
Wood Thickness & Material: 5/8″ MDF Construction
Frequency Response: 44 – 400 Hz
Peak Power: 4,000 Watts (pair) | 2,000 Watts (each)
Power Handling: 2,000 Watts RMS (pair) | 1,000 Watts RMS (each)
👍 Pros:
High-Roll Surroundings.
Incredible sound precision & responsiveness.
"Wedge" style Vented Enclosure.
Pre-mounted & Pre-wired.
Double Front Baffle.
👎 Cons:
Sometimes may exert a bad Overheating Case.
---
Like Skar Audio Dual 10″, MTX TNE212D is also enclosing a duel subwoofer in a well-
designed structure. The 12-inch sealed enclosure has a Terminal Cup(single) displaying the full capacity with the connected Amp (2ohm).
More from your expecting, MTX TNE212D can efficiently deliver an extreme bass level competing with the music volume. Each subwoofer present in this total enclosed system can provide a 200Watts RMS power.
So ultimately total pair of this subwoofer can provide a 400 Watts RMS/800Watts power. This device features a Spider Plateau Venting to offer more air movement to produce more hitting for rock bass.
The Mechanical Cooling Process of this ventilator allows refreshing the air surrounding the voice coil by scattering the high heat. A 5/8-inch MDF is used to construct this subwoofer, which is often stronger than any ordinary MDF.
It is a lightweight subwoofer include a long-lasting Polypropylene Dust Caps. This cap can withstand against the difficulty of any toughest trunk.
The pretty user-friendly design and structure of this subwoofer make it is a relatively less power-afforded device when it needs to carry on from one place to another.
Finally, the rock bass and the super high-volume music delivering form this aftermarket subs even can force your neighbors to knock your door! So, enjoy it.
Another Style available for this same product is an 8-inch Subwoofer Enclosure, A Dual 12-inch Subwoofer Enclosure, A Dual 12-inch Vented Subwoofer Enclosure, A Dual 12-inch Vented Subwoofer Enclosure + one Amplifier.
Product Specifications:
Model Name: B001JECAM2
Wood Thickness & Material: 5/8″ MDF Construction
Frequency Response: 20-200Hz.
Peak Power: 2000-watts
Power Handling: 1000W RMS Total (500W Each Sub)
👍 Pros:
5/8-inch MDF Construction.
Aviation Grade Carpet.
Embroidered Terminator Logo.
Easy to Install.
Worth the money.
👎 Cons:
A powerful amp is needed to run this subwoofer effectively.
---
When you are searching for a rocking sub, featuring a High Roll Foam Surrounding with a Competitive Grade Pressed Paper Cone, Skar Audio SDS-15 could be your best option.
Top-notch sound quality with a Low Note Capability makes this woofer a hard-hitting aftermarket device compiling the best features. The affordable car subwoofer under $100 with a high hitting feature & a Low spectrum sound profile.
This SDR series already got lots of good customer reviews as it is excluding all the cons that arise with other subdevices. SDR works with a 2.5-inch high-temperature 4-Layer Copper Voice Coil.
Moreover, for better efficiency, this coil is attached to the Skar Audio Signature Red Spider portion. Like many branded sub-series, SDR also is featuring a High-Roll Foam surrounding ultimately to produce a Riveting Low-End Bass Response.
1, 200 watts are the max power can obtain from this series. The power handling of this device is 600watts RMS. You may have plenty of aftermarkets offers from several brands available nowadays.
But the fact is, if you research little a bit, you will find SDR is relatively the same efficient as Pioneer, Alpine, and Kicker but relatively at a very flat expanse. It's like a gem has a reputation for the goodwill.
Several sizes of this product are available nowadays, such as 8-inch Dual (2Ohm,4Ohm), 10-inch Dual (2Ohm, 4Ohm), 12-inch Dual(2Ohm,4Ohm), 15-Inch Dual(2Ohm,4Ohm) And 18-inch Dual (2Ohm and 4Ohm).
Product Specifications:
Model Name: SDR-10 D4
Sensitivity: 82.5 dB
Frequency Response: 28 Hz – 300 Hz
Peak Power: 1200Watts
Power Handling: 600Watts RMS
👍 Pros:
Crystal clear bass.
Low price
High Flux Ferrite Motor
Advanced Air Flow Colling System.
4-layered Copper Voice Coil.
👎 Cons:
---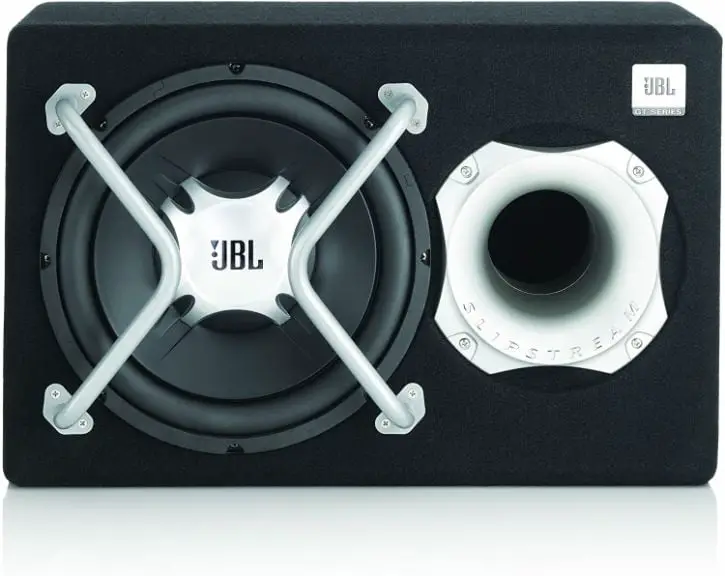 A High-Output, Low Distortion Bass quality to the car's audio system successfully can get using a JBL GT-Bass Pro 12 Car Powered Subwoofer. Featuring a Slipstream Port design, it can deliver a Bottom-end Bass with a reduced port noise.
A vented motor-structure ensure high-level thermal protection to stop a high-heating problem inside this device. Moreover, a Spider Polepiece incorporated with the voice coil makes it is a more flexible and reliable subwoofer indeed.
The JBL GT Subwoofer designed with an inbuilt 150-watt amplifier, just removing your worry to install an extra amplifier. With a System's Level Remote Control, the user can control the bass level sitting on their driving seat even without stopping the car.
A Polypropylene cone along with a Rubber surround moreover ensures a more solid bass sounding natural. It contains an Oversized & Stacked magnet to enhance the magnetic flux.
This flux ultimately can provide a sound output with a Controlled Cone Motion. This subwoofer is compatible with any car audio systems featuring an Automatic on/off Functions. 
It can automatically turn on when it senses a speaker-level signal. More interestingly, it also can auto turn off within a few minutes when the signal turned off.
Product Specifications:
Model Name: GT-BassPro12
Input Sensitivity: 50mV – 4V (line-level input); 0.4V – 16V (speaker-level input)
Frequency Response: 35Hz – 120Hz
Peak Power: 450 watts max
Power Handling: 150 watts RMS
👍 Pros:
Remote level control.
Built-it 150-Amplifier.
Slipstream port.
Oversized & Dual-Stacked magnetic port.
Automatic on/off system.
👎 Cons:
---
When you make a list of the best car subwoofer under 300, Rockford Fosgate P300-10 comes in the top in that list dumped the others.
This subwoofer is like an all-in-one solution for all car audio users. It comes with custom sealed enclosure to enclose a 10-inch subwoofer. It needs an external 300watts amp to run the whole system.
A Built-in adjustable Bass EQ, Built-in 0°/180° Phase Switch, and a Remote Bass Level Controller are included in this device. This device allows a careful integration in the OEM Audio Systems using an RCA/Speaker Level signal.
It features a long-lasting exterior which can prevent any scratch and bumps during the shipping process.
P300-12 is the revolution in the aftermarket solutions. It like a global leader in the audio renovation who is working on getting customer passion and satisfaction.
In addition, who else can offer the precise engineering for top notch bass sound quality rather than the Rockford Fosgate. Plenty of power is hidden in this baby, decently give you a clean bass.
Like another subwoofer, it may not rattle on your window, but believe me, it never goes to lose your hope. It is cheaper and easy to install the device. Once you set it in your car, surely people will enjoy a car bumping' with a "Bone Thugs n" harmony.
However, both the 10-inch and 12-inch Rockford Fosgate P300 are available in the market
Product Specifications:
Model Name: P300-10
Wood Thickness & Material: 5/8″ MDF Construction
Frequency Response: 35-200 Hz
Peak Power: 600W Peak
Power Handling: 300 watts RMS
👍 Pros:
A Separate Low Level & Speaker Level Output.
Low Current design.
Covered with Industrial Heat Activated Vinyl.
Thermal
Detachable Power Connector.
👎 Cons:
---

Polypropylene made cone along with a lower weighing coil, make it is a top-notch subwoofer with amazing sound quality.
The resilient and heavy-duty construction materials of this sub can withstand any premature fatigue issues, high heating issues throughout the whole life of its. It has a flexible foam made surrounding for what user get a better efficiency for an accurate high responsive bass.
A better Excursion is translated form this foamy portion to make a long traveling of the signal from the sub cone. The Stamped Basket is made of sturdy and unbending materials, ultimately providing a clean and clear sound quality.
Many sub-users often thought that a capable subwoofer could go for a 'break-in' process even in a harsh condition. As it is time to avoiding a low-to-medium bass sound quality in loud music, Planet audio is the best option undoubtedly.
Moreover, it has such a cheap cost! Undoubtedly it is the best cheap car subwoofer without a premature failure and odd service. However, A Dual 4 Ohm Voice Coil is working here to produce a more precise bass.
Though dual voice coils never produce more bass than a single one, the specialty is all about the Ohm. Ohm defined electrical resistance. The less resistance it can be, the more will release form the amplifier to control the subwoofer in an efficient way further. 
Planet audio subwoofer has three different styles and sizes for the users. They are-an 8-inch subwoofer, a 10-inch subwoofer, and a 12- inch subwoofer. Moreover, a 1000Watt Amp, 1500Watt Amp, and a 3000Watt Amp also are three different manufactured products of Planet audio.
Product Specifications:
Model Name: AC12D
Sensitivity: 87dB
Frequency Response: 39Hz
Peak Power: 1500Watts
Power Handling: 750W x 1-channel RMS
👍 Pros:
Easy setup.
Decent sound
Propylene made cone
Foamy surrounding
Dual 2-Inch-High Temperature.
👎 Cons:
---
Quality, construction, design of Sundown subwoofer is nothing left to describe separately. This brand is so famous for its quality service; the user often buys its device only seeing the brand name.
However, like any other series of Sundown audio subwoofer, SA-12 D2 Rev.3 12-inch 750W Sundown Dual sub is also going to meet the customer demand, offering an impressive bass in loud music.
Like we hear the fact, every quality service doesn't tend much expansive. Based on this fact, Sundown manufactured this quality sub relatively at a lower price. The superb sound quality in such affordable price make it is the best budget car subwoofer for any type of car user. 
This subwoofer is featuring a Thick Black Anodized Aluminum Coil Formers to offer the user a superb sturdy performance without wasting any heat inside the sub.
The highly efficient Air-flow dealing inside the motor of this device works to keep the coil cool. Moreover, the Dual Aluminum Faraday Rings presently inbuilt with this non-enclosed driver, can decrease the inductance and distortion from the sound spectrum (Pole Cap and Magnet ID).
Many users of this subwoofer already give their very good feedback about this product. It is a durable product offering an extended period of warranty for quality output for a long time.
Product Specifications:
Model Name: SA-12D2
Sensitivity: 83.21 dB
Frequency Response: 33.96 Hz
Peak Power: 1400W
Power Handling: 750Watts RMS
👍 Pros:
Power Handling is 750Watts RMS.
Two Years of Warranty.
Compact and Lightweight.
Shallow Mounted Depth.
Wired at 1Ohm.
👎 Cons:
---

A legendary bass from your car is efficiently possible with the 12-inch Loaded Enclosed Subwoofer. Whether in the road crowd or the silent midnight road, if Kicker Dual presents on your ride, no question arises to being bored by alone!
A mind-blowing acoustic sound and a perfect bass all are altogether found from this aftermarket subwoofer. Kicker's 43DCWR122 has a robust, long-lasting polypropylene cone that can withstand for a longer playing time of the audio giving an accurate & high responsive bass.
It is the best car subwoofer under 300, featuring a custom-designed rear portion with a fantastic top -plate. This subwoofer's top has a spacious room to handle it anywhere easily.
Moreover, the rubber surround on the top of the plate offer the user to entirely control the cone movement while performing extensive work as well. Again, back to the Sub enclosure, it is made from a Solid muscular wood to ensure a durable performance from the sub.
The specially designed Front-facing Port further enhances the bass delivery without making it muddy. The 2 Ohm Impedance of this sub closure pulls the power from a mono amplifier. The power handling of this device can be up to 1000 Watts RMS. It is a perfect match for your car radio simply pairing easily with the head unit.
Product Specifications:
Model Name: 43DCWR122
Sensitivity: 98dB
Frequency Response: 32.7
Peak Power: 2000Watts
Power Handling: 1000Watts RMS
👍 Pros:
75-inch-thick black carpeting outside.
Ported Enclosure.
Quick Installation.
Factory Tuned.
4 Mounting Brackets.
👎 Cons:
---
The best car powered subwoofer for deep bass is not difficult to find at all. You have to just find the workable one among the thousands of subwoofers offered by the aftermarket device producer. Rockville RW10CA 10-inch is a component subwoofer which features a Slim under seat subs.
It is a third party ensured power range, so it is confirmed for all users.
RW10CA is like all in one solution to get a crystal-clear sound as a final product. It is a 2.7-inch thicker subwoofer that can easily fit under seat of your car. The prime advantage of this sub is, it offers the user a gentle installation with a high-level input.
Without involving the remote wire, you can turn on or off this device simply sited on your seat. This subwoofer has a fantastic sound tick to deliver a excellent bass according to the user specifications.
This device is featuring a Volume Level Controller, a Subsonic Filter inbuilt with. This device can filter those sounds, which cannot un-hearable for the human ears. It is also featuring a Low Pass Crossover Filter, a Phase Controller, and a Bass controller.
Rockville Subwoofer has several styles available nowadays. Two different sizes of this subwoofer are an 8-inch subwoofer and a 10-inch subwoofer. The user also has the scope to purchase this sub as a single device or a combination with the Amp installation Kits. Moreover, Rockville Subwoofer also available with the Line Out Converter as well.
Product Specifications:
Model Name: RW10CA
Sensitivity: 90dB
Frequency Response: 20Hz – 150Hz
Peak Power: 800Watts
Power Handling: 200Watts RMS
👍 Pros:
Overload Protection Circuit.
Adjustable Input Sensitivity.
PWM MOSFET Power Supply.
Gentle Installation.
Worth the Money.
👎 Cons:
Loose-fitting of the subwoofer can impact on the car's sound system.
---
Pioneer TS is a modern subwoofer that can exert a gentle action placing behind your car seat. If you intend to select a budget-friendly Shallo-Mount subwoofer, Pioneer TS-SW2502S4 could be a great choice. It just owes everything you need from a subwoofer.
With a single 40hm Coil, this shallow mounted sub can provide crystal clear sound quality with deep bass. Producing a top-notch quality bass is the prime concern of Pioneer.
Mice Injection-Molded Resin is the excellent features that can deliver the accurate bass from your car's radio system. Moreover, the cone-like surface of this device can move more air to produce louder and higher bass quickly. 
With the 10-inch size of the whole body of this subwoofer, takes a tiny place to happily fitted inside.
Like the name, Pioneer also brings a tremendous benefit in the car audio system where all traditional subwoofers failed to fits efficiently. Even this subwoofer won't shake your neighbor's window though it produces a high bass.
Once you tune your Amp correctly with this gadget, it is just gonna hits rocks!
Product Specifications:
Model Name: TS-SW2502S4
Sensitivity: 91 dB
Frequency Response: 20-125 Hz
Peak Power: 1,200 Watts
Power Handling: 100-300 Watts RMS
👍 Pros:
Very Swallow Amount.
Easy to set in a tiny space.
Deliver a rich bass.
Small & Compact.
Versatile against a low price.
👎 Cons:
Unable to fit within a conventional box.
Power thirsty.
---
Buying Guideline for the Best Car Subwoofer for The Money:
A perfect subwoofer for your car stereo speakers is a piece of must-needed equipment to make capable your car radio delivers outstanding bass in a high volume's music. So, we have already included the top ten lists to make your buying task quick and straightforward.
Whatever, if you still thought you need another subwoofer, which is not included in our list, we appreciate you. So here we are giving some aspects, by following which you can purchase the Best value Car Subwoofer and vice versa. 
Power:
Power is the prime concern; you should think it seriously. A powerful subwoofer can deliver you a deeper, louder, and more transparent bass sound quality in your sound system. A pounding bass with a sound explosion needs a powerful sub. Wait, Wait…!!
Don't be upset thinking the more power of your subwoofer will be, the more expensive it will. A subwoofer with an exploding bass also can get from a good-budget subwoofer.
Carefully observe the Peak power output and the power handling output for getting a powerful subwoofer.
Frequency range:
Finding a subwoofer that is capable of delivering a top-notch bass audio quality by catching the high and low sequences of the bass tune is mandatory for a quality music system. A higher frequency range-covering subwoofer ultimately can do this. But you should consider buying the car subwoofer which can deal with low frequencies. To be honest nowadays almost all car subwoofers are designed to work with low frequencies. The lowest frequency human can hear is 20 Hz. But the ideal frequency range for a sub woofer should be 60-70 hz.  
Design of the subwoofer:
A well-vented enclosing subwoofer is a workable designed subwoofer to deal with more air ventilation and producing good bass. Subwoofer featuring a foamy top-plate, black carpeting, and reasonable construction of the cone could be a perfect choice.
Also, never forget to check the size and weight of the subwoofer. If you want to set the sub under your car seat, you have to purchase a measured sized subwoofer for a well-fitting under the seat.
Single or Duel voice coil?
For new users, a single voice coil is a good option. It pulls an easy process to install. Moreover, it is effortless to operate relatively than dual voice coils. A dual voice coil is like a music enthusiast in the car music system.
It can efficiently deliver a profound bass audio quality. Only the problem with a dual voice coil is, it needs a complicated process to install and run.
Sensitivity range:
A higher sensitivity range in a subwoofer indicates it needs less power to deliver a high-quality bass. A powerful amplifier can operate a higher sensitive subwoofer. So, if you already installed a powerful amp, go to set a high-sensitivity subwoofer.
Price:
As already, you have fixed your budget, so there is more to say. Be a little bit tricky about your budget. If a little bit of increasing your budget could ensure you are getting a more quality product, don't hesitate to increase your budget. 
Frequently Asked Questions (FAQs):
FAQ-One: What are the types of a subwoofer enclosure?
Answer: There are mainly three types of subwoofer enclosure seen nowadays. Sealed enclosures, Ported enclosures, and Bandpass enclosures. The types are made based on the box the subwoofer just enclosed within.
FAQ-Two: What is the advantage of setting two subs on a mono amp?
Answer: A mono amplifier hooked up with two subs can handle a lower impedance. A lower impedance is needed to handle more power at both the subwoofer further.
Final Word:
A perfect subwoofer also can affect tremendously on slow tuned music. A hip-hop/pop/rock music demand a good subwoofer to provide a perfect bass in a significant way.
If your factory radio produces a piece of hopeless music, installing the subwoofer for your car stereo can change this ordinary music not only raffling on your window, your mood also can get a blast with this!
That's all on the Best Car Subwoofer for The Money. Hopefully, you have liked this article.
As an Amazon Associate I earn from qualifying purchases