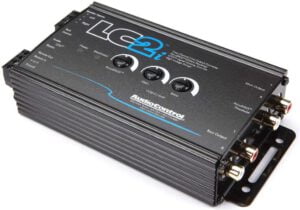 Most of the factory car stereo systems included in today's cars are not trend to deliver a profound and crisp clear music to the listener.
Distorted audio along with a combination of the external crowdy sounds spoil the quality of the sound and make it annoying & Inaudible.
So, what is the solution to avoid this sort of irritation? Interestingly, you don't have to do too much to resolve this issue.
Simple install one perfect line out converter with your car stereo systems, and wait for the amazing music quality from the car's music system.
Without further ado, let's dive for the deep of today's article to find the best line out converter which is affordable, functional, durable, and reliable.
Who does not want to acquire a LOC (Line out converter) with enhanced quality and precise engineering manufacturing after all!
Table could not be displayed.
Top 6 Best line Output Converter Review:
That is the core part of this article we just focus it very technically! For the past few days, some of our experienced persons researched huge to find the most effective line out converters available in today's market. And we got the below listed six products at the top of the LOC list.
Highlighted Features
LC7i 6-channel line output converter (LOC) is capable to give you a powerful sound without diversifying itself from any climate changing or other voice-interrupting functions.
Incorporating the AccuBASSTM with this top-rated line output converter, cause an improved audio performance to your car's radio.
The LC7i is featuring six channels of active speaker line converters. Therefore, you can accept up to 400 watts per channel.
It can give you a remote level controller for your smart LC7i. This Audio controller comes with 20 feet cable and it can detect any signal from any Low-frequency input as well.
The AudioControl LC7i can meet the user demand delivering high-performance at an affordable and competitive price.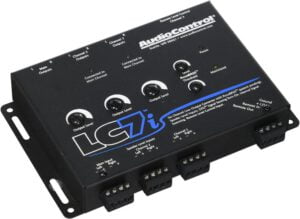 Product specification:
Dimensions: 7.5″ W x 4.7″ D x 1.2″H
No. of Channel: 6
Maximum Input: 400 W /channel
Maximum Output Level: 8.5Vrms
Frequency Response: 10 Hz-22 kHz
LC7i is one of the best line output converter car audio consisting of six active line input/output channels to progress the converting process.
It offers the user to experience a great in-car music/audio experience in an amplified and reproductive way. This device offers the user an awesome and improved sound quality by fixing any critical letdown of the car's factory system.
LC7i converter can maintain any weak BASS to modify the delivered audio signal. It is an easy-to-use line output converter, contains a lot of features and specifications in the most fabulous way to add amps on the car's factory radio.
Powerful sound quality with improved audio performance is the key concern for the LC7i device. The AccuBASS incorporation with this converter can correct any bass roll-off automatically.
When you just turned up the high audio volume, a patented AccuBASS works to maintain and restoring the BASS so that you can enjoy a sound without any distortion.
Either a single bin head unit or a double bin head unit, for both cases you can go for a quality progressing through this equal and flexible audio down the streaming system.
The package content of this product comes with one LC7i LOC, Speaker and Power connectors, one warranty card, one QC Checklist, and one user manual.
---
Highlighted Features
DS18 VH4L 4-Channel Hi/Lo line converter can provide you an audible sound quality from your aftermarkets sound delivery system.
It can respond to a 20 Hz to 20 kHz frequency. Besides this, this converter efficiently converts the car stereo wire output into a cable output (RCA).
The LED indicators included in this device, maximize the head unit signal and offer a quick audio adjustment.
The Remote Trigger output of this device work to sense each audio signal.
DS18 VH4L Line output converter is constructed from high-quality materials with a precise Engineering technology.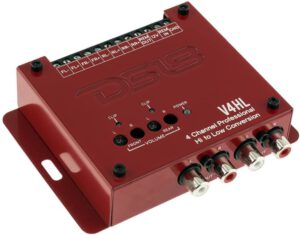 Product specification:
Dimensions: 109mm x 88mm (L x W)
No. of Channels: 4
Maximum Input: 50 W /channel
Maximum Output Level: 2.5 V (RCA)
Frequency Response: 20Hz-20KHz
DS18 V4HL 4-Channel renowned line out converter featuring a variety of special features along with the machine.
The Surface Mount Component Technology, a Direct Insert Speaker Terminal and the lowest impedance with a perfect Power Filter makes this converter perfectly worthy to amplify your car's radio in an efficient way.
Such latest technology installed in-built in this converter, seems the manufacturer of this converter only has one vision and mission and that is, delivering a boom blasting sound quality to the music lover mainly when they are driving their car.
DS18 V4HL has 4-Channel Line out Converter that can build any high to low converts at your demand specifications. It is one of the best 4 channel lines out converter to produce a clear and efficient frequency for your aftermarkets.
For high-quality audio reproduction, it has in-build LED Clipping Indicators. These LED Clipping Indicators adjust the head-unit signal and produce a high-audible music/sound.
This converter is constructed with high leveled engineering precision combined with the high graded constructed materials.
Moreover, One-year extending warranty is included with this line out converter, allow the user to enjoy its service for a longer period.
---
Highlighted Features
NVX digital line out converter offers the customer an awesome design and precision-engineered structure to produce an extreme BASS output ultimately
XCLA2 includes a bass control knob to adjust the bass level for a diverse music system.
XCLA2 contains xBOOST technology which can reduce any bass roll-off to avoid any distortion of the sound system.
The XLCA2 can turn on or off automatically if any signal is detected on the amplifier input with the help of 12-volt Trigger output in-built with the machine.
A Factory car stereo may come with some upgraded technology like a broader touchscreen, Bluetooth options, Apple CarPlay, some Android apps, etc.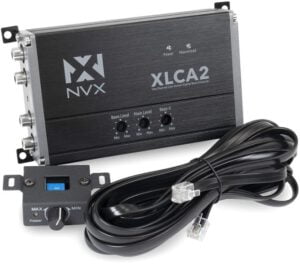 Product specification:
Dimensions: 5-1/2″W x 3-3/4″L x 1-1/4″H
No. of Channels: 2
Maximum Input: 400 W /channel
Pre-Amp Output: 9.5 Volt
Maximum Trigger output: 12Volt
The NVX XLCA2 contains a two-channel processor along with an input circuitry. This line out converter can receive up to 400 watts RMS/channel from the amplifiers.
This device converts the accepted frequency into high-quality pre-amp signals to incorporate it with the after-market processor with a new amplification.
Unlike many ordinary LOC available in today's market, XCLA2 deliver an exponentially higher output voltage. And the exciting thing is that with this preamp voltage you can enjoy a clearer and comparatively less distorted audio signal very quickly.
Any unwanted sound will stay out of the range to modify it or amplify it to disrupt your desired audio system. This line out converter is featuring a bass control knob. Using this knob, the user can adjust the bass level following a variety of music.
Turning the knob left or right and adjusting the bass at any demand level, how pretty is it! You will not get this feature in many LOC available now a day.
Setting the factory head units with any ordinary amplifier or woofer can blow your factory woofers suddenly. You can protect your factory woofers with the xBOOST technology.
---
Highlighted Features
LC2i has the AccuBASS feature which can reduce the bass roll-off and can compensate for the circuit correction productively.
LC2i has two-channel compact processors which can accept signals 400 watts per channel from the factory amplifier.
LC2i will automatically power it up. LC2i can deliver a high voltage up to 12 volts as a trigger output to turn the amplifier.
You can incorporate ACR-1 Dash Remote to adjust your audio volume in a more audible tone.
LC2i can reduce the bass roll-off and can minimize the distortion of the high frequency of any higher volume audio.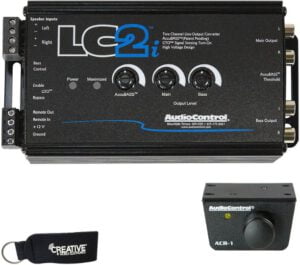 Product specification:
Dimensions: 1.75″ W x 2.5″ D x 1.0″H
No. of Channels: 2
Maximum Input: 400 W /channel
Total harmonic distortion: 0.01%
Frequency response: 10 Hz – 100,000 Hz; ±1dB
LC2i 2 Channel Line Out Converter is one of the best line out converter for subwoofer control just in a superb way. The AccuBASS apps and the ACR-1 Dash Remote included in this AudioControl converter can produce a high-quality pre-amp audio signal from your factory-installed source units
The AccuBASS features of this audio converter can reduce any bass roll-off and can reduce any audio distortion. Any GTOTM signal capturing capacity of LC2i can auto turn on the remote on lead and can detect any signal coming from the factory head units.
This device can receive the factory level signal up to 400 watts per channel to amplify them as per the user demand level. Once all these signal converters into high-quality audible sounds, it transfers all of them into any aftermarkets with all its amplifications.
The Two-channel of Active Speaker Level Input of this device can accept diverse output with discrete level controls. LC2i is not only a line out converter, but it has also one super functioning ability. It is a renowned low distortion (<.01%) 9.5-volt line driver also.
For over 33 years, LC2i is giving gorgeous audio quality among many car radio users. The mind-blowing performance from your car stereos system, impressively very possible with one renowned LC2i.
---
Highlighted Features
This device is featuring a Split-pin RCA connection with a Silver-tinned OFC wiring.
A K-grip Duel Mold Connector is included with this top-rated line out converter, offering comfortable handling to the users.
The most exciting feature of this RCA converter is that it is the first LOC which holds the Micro-surface mounting features along with the machine.
This device is compatible with the OEM radios. Therefore, it can feature the short circuit protection of any audio signal easily and quickly.
KISLOC 2-channel line out converter can reduce bass roll-off and can modify the audio quality even in a high volume.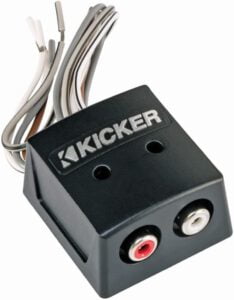 Product specification:
Dimensions: 4.5 x 2 x 0.5 inches
No. of Channels: 2
Maximum Input:  50 W /channel
Output: 8 volts
Flat Frequency response: 20-20,000 Hz.
KISLOC 2-channel line out converter is included 2-channels to accept 50 watts per channel input signals with a delivering capacity of 8 volts output as well. This smart line out converter is compatible with OEM radios.
OEM radios have short circuit protection and it can enhance one important quality in your factory sound system.
Kicker's KISLOC line out converter is a high-power line leveler, can accept the amplifier's input signal form any factory stereo system.
To meet the amp needs for the input of a speaker-level signal, this device can lower any amplified signal below the line level. Thus, it can control each audio signal accepting on each channel.
KISLOC 2-channel line out converter can modify your factory radios along with the Open-Circuit protection (by applying 60-ohm load per channel).
However, the audio signal you got from this LOC is very clear and audible also. It is a lightweight, small, and compacted device and can be installed through a very easy process.
You can buy this converter at an affordable price and with one year of warranty.  The package content of this product comes with one Kicker KISLOC Speaker to RCA converter along with a 7-inches input wire and a user manual.
---
Highlighted Features
It can optimize the audio levels between your factory end and the amplifier level.
This device featuring the universal harness and the Stereo Gain capacity which are amazing and exclusive to deliver an improved frequency response.
The PAC LP7-4 LOC Pro series has a compact and premium size.
This LOC is featuring the Remote Turning on. Therefore, it can automatically turn on the amplifier after you start your car's stereo each time.
The Screw Mounting Provisions of machine additionally enhance an ideal placement of this LOC.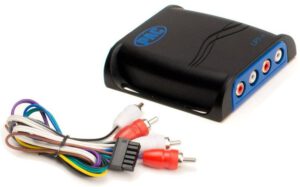 Product specification:
Dimensions: 4 x 8 x 1.2 inches
No. of Channels: 4
Maximum Input:  55 W /channel
Total harmonic distortion: 0.01%
Frequency response: 20-20k +/-1.5db
PAC LP7-4 is a high-power line output converter that can use any head unit of your car. This PRO series is manufactured in precise engineering works so that it can deliver the best quality sound upon optimization of the audio level in between the factory head unit and the amplifiers.
The line out converter can accept both the high or low-frequency signals from any given volume.
The Ultra-compact housing and a high power included in this machine, make it capable to accept 55 watts per channels very clearly.
The response rate range of this device is 20Hz to 20kHz frequency response (+/- 1.5 dB).
If you want to add your amplifier with the OEM radios, the PAC LP7-4-line out converter is the most effective in that case.
The short circuit protection capabilities of this device can enhance the Bass quality and can reduce a higher bass roll-off as well.
It is a very affordable product. Moreover, it's a passive line out converter therefore your car's battery does not have any chance to drain out automatically.
---
Buying Guideline of The Best line Out Converter:
After reading all the product reviews I had described above, already you may have decided which LOC you should buy actually.
However, if you still in the confusion to choose a perfect line out converter, you can go for other brands.
Now I will include some factors which you should observe before purchasing the converter very efficiently.
Brand of the converter:
A renowned brand of any perfect line out converter will never compromise with their quality and service. Though you may expanse relatively a higher for a reputed brand, I suggest picking any reputed LOC brand.
Do you have any intension to buy the LOC frequently after a short interval? If no, then choose a top-rated brand for your LOC.
No. of Input /Output channel:
Usually maximum basic line out converter included 4-channels (2 for input channels and 2 for output channels). However, varying on the LOC brand, the number of channels can extend up to 6 as well.
An increased Channel number can provide more connection to the amplifiers and the speakers. So, if you want more channel, go for the LOC models which has more channels.
Features & Specifications:
LOC with upgraded features and specification enhance user satisfaction in many angles. A LOC featuring, ACR-1 dash remote, GTO and AccuBASSTM technology, high to low RCA adapter, etc. offers the customer to enjoy a more modified music system.
Customer Reviews & Ratings:
Many often, I suggest all my clients do a little bit of research on the customer reviews and ratings available on various e-commerce sites.
The most advantage site of seeing customer reviews is that you will directly know the feedback of the quality and service of the products very easily.
Quality and Durability:
You may ask me how I could be sure about the LOC quality before I use it directly! Go for the manufacturing websites of the LOC and know how it is constructed.
Also, see the constructed materials used in your desired LOC. A good LOC will use quality materials to contract itself. However, A quality LOC will durable, there is no doubt.
If the LOC offers you an extended year of warranty, it also will give you a long-lasting LOC service.
Frequently asked questions (FAQs):
What is the no. of channels should I choose for my powerful car speaker?
Answer: As you are wanting no of channels for your powerful car speaker, that means you will need a minimum of five channels to line out the speaker. 4 channels will cover your front and rear speakers and the remaining 1 will cover the subwoofer.
Can my line output converter damage my car's battery?
Answer: Passive line out converter does not need any external power source. However, if your line output converter is active, then it will hook-up with your battery and take the measured amount of power (at last 12 volts).
An active converter only takes power if it receives any signal to convert. At the resting stage, though your converter is connected with the car battery it will never drain the battery.
What is the disadvantage of today's line out converter now a day?
Answer: Today's Line out converter consisting of so many technical parts and features, ordinary people without technical knowledge may face complexities to install and operate those.
Moreover, the AccuBASS software of all line out converter always not show compatible with all subs.
What is GTO?
Answer: GTO is the short form of Great Turn On. This feature is included almost in all AudioControl devices. This system works to turn on the AudioController system automatically if it gets any signals from the factory head unit.
This feature helps to avoid turning on the wire for the converter and the amplifiers.
Where I have to install my LOC?
Answer: Install your LOC in between the head unit (Speaker Output Wires) and the amplifiers (speaker input wires). You will have to cut the speaker wires to hook the LOC in between the factory head unit and the stereo amplifier.
Final verdict:
So finally, after reading the entire content what are you thinking about your LOC?  Hopefully, you are on the way to collect the best line out converter for your dearest car's stereo system.
So, this is all about today's article.  If you think this article is useful for you, please don't forget to share it on your timeline.
As an Amazon Associate I earn from qualifying purchases