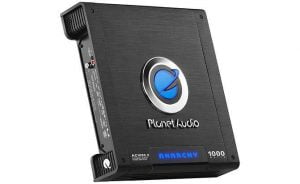 There are many top-class brands out there producing awesome amplifiers one after another. However, when it comes to the introduction of most modern features, no brand can rival Planet Audio. Yes, it makes its product loaded with fascinating features and technologies.
Now, we've done some research to find the best models made by the company. And we've come across 5 of them. They are spectacular in all aspects, be it the sound quality or power input-output. So, if you are looking for a great amplifier, you should read our Planet Audio amp reviews. 
 Top 5 Planet Audio Amplifier Reviews
Here are the top-quality units we want you to check out. Once you are done with reading the reviews, you can make a well-informed buying decision.
1. Planet Audio AC1500.1M Monoblock Car Amplifier
Highlighted Features
Remote subwoofer control along with the high level and low-level inputs.
1500 watts at 2 ohms and 750 watts at 4 ohms power outputs are amazing.
Low pass filter offers efficient elimination of inappropriate frequencies.
Variable gain control for preventing any sound distortion.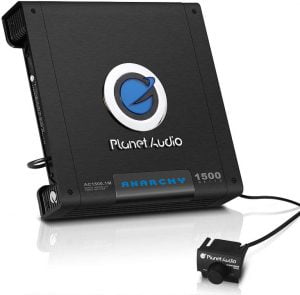 Specifications: 
Total Power Output: 1500 watts
Bass Boost: 0-18 dB 
RCA Inputs: Double channel
Speaker Impedance: 2-8 ohms
The topmost product on our list comes with an incredible bass boost. And don't tell me that you do not find this to be impressive. For, if the sound system lacks proper bass, then what good it is, right? Now, our guy over here also has a remote subwoofer control to take the convenience to the next level.
Now, what's also extraordinary is that the unit will blow you away with its high-level input and at the same time, it won't fail to please you through its low-level input. And that's something not many models can offer.
What's more, you will get an electronic circuit with the device. This thing will eliminate both the too high and too low frequencies and make the unit accept suitable signals. And when it comes to powering the subwoofers, there must be no inappropriate frequency.
I found the power output of the device to be incredible also. We are talking about 750 watts at 4 ohms. That's brilliant as far as amplifiers go. But, the unit has more in store for you. In another channel, it will provide 1500 watts at 2 ohms.
Another worth mentioning thing is the easy adjustment of bass it comes with. Whenever you feel like there's a bit high gain, you will find the gain control to be amazingly handy. And if there's inadequate gain, this feature will prevent any clipping that would happen otherwise.
Our Verdict: You want to buy this unit for the incredible bass boost it offers. And the low pass crossover should also make your listening experience fun.
---
2. Planet Audio AC1200.2 2 Channel Car Amplifier
Highlighted Features
The semiconductor transistor offers very low current requirement.
Cutting of output when there's an electrical short for enhanced safety.
Easy adjustment of the low bass with the integrated bass boost.
Combination of classes A and B brings about the desired frequency.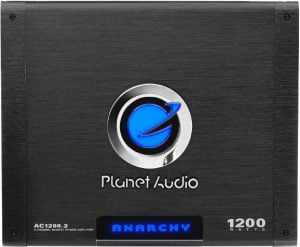 Specifications:
Total Power: Output: 1200 watts
Bass Boost: 0-18 dB 
RCA Inputs: Double channel
Speaker Impedance: 2-8 ohms
Next, we have the planet audio 1200 watt amp review for you. This unit will provide you with the highest volume you can imagine. Yes, you got to check out this awesome model that accepts 2 ohms so efficiently. And you will also be stunned by the incredibly high power it will offer.
Now, if you are worried about the distortion of the sound, then be so no more. For, we aren't talking about any ordinary Class A amplifier over here. Rather, it's an A/B model we are dealing with. And everyone knows how a combination of classes can bring about wonderful sound quality.
Another thing you might like is the presence of both types of inputs in this device. Yes, here's another model with high and low-level inputs. So, you will have plenty of options to make your sound system great.
You can go for an aftermarket source unit, or if you desire, you can stick to the standard factory unit. Now, you don't get such flexibility with every amplifier, do you?
Moreover, the device needs only a little current, thanks to the semiconductor transistor it comes with. And that's why it's one of the best amplifiers for car Audio. Now, what's outstanding about this unit is that it protects itself through the protection circuit very efficiently.
Yes, whenever there's any electrical short, the output will be cut immediately. This way, you will have a long-lasting unit that will serve the purpose for years to come.
Our Verdict: You should consider buying this product for the awesome bass boost. The double class amplifier will provide you with the most amazing sound system.
---
3. Planet Audio AC2000.2 2 Channel Car Amplifier
Highlighted Features
Thermal protection technology prevents the device from getting overheated.
Immediate output cutting when there's a short circuit.
Signal to noise ratio is incredibly high with about 70% efficiency.
The best stuff of class A and class B combined in one unit.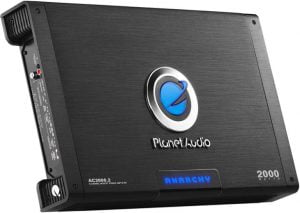 Specifications: 
Total Power: Output: 2000 watts
Bass Boost: 0-18 dB 
RCA Inputs: 2 channel
Speaker Impedance: 2-8 ohms
Here's another device with class A and B combination. And we love A/B amplifiers very much. For, we know that we won't have to deal with the disadvantages both of these classes come with. There will only be the good things of them included in the device.
Now, when it comes to the reduction of distortion, this unit is one of the best ones you will ever come across. And the fact that its signal to noise ratio is awesomely high makes it an excellent choice.
I also appreciated the thermal protection circuit very much. With this in place, I don't have to worry about overheating of the device. And if you've had any experience with a too hot amplifier, you would know how valuable this feature is. It will make the unit as durable as it gets.
The unit will be turned off immediately when it becomes too hot. The circuit will keep it so until the temperature falls back to normal. What's more, if there's an overload, the device gets shut off automatically. And since the short circuits are very common with amplifiers, you will need such technology badly.
Moreover, manufacturers have gone to extremes of length to make sure that the device is protected from any mishaps. That's why you will see the protection indicators in place. I also want to mention the remote control circuit it has. With this, you will find the amplifier to be extremely convenient.
Our Verdict: This amplifier will be perfect for anyone who's looking for great safety features. And you should also consider buying it for the signal to noise ratio it provides. Yes, it will make your sound system awesome.
---
4. Planet Audio AC4000.1D Class D Car Amplifier
Highlighted Features
Remote subwoofer control offers very swift tweaking of the bass.
The strapping cable is included so that you can get the enhanced power output.
The subsonic filter keeps the bad frequencies away very efficiently.
Short protection feature to keep the device safe when there's a short circuit.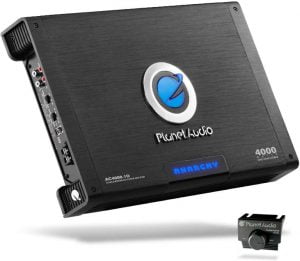 Specifications:
Total Power Output: 4000 watts
Bass Boost: 0-18 dB 
RCA Inputs: Double channel
Speaker Impedance: 1-8 ohms
The unit we are talking about comes with a very lightweight body. Now, the best thing I found about is the MOSFET power supply. With such a feature, you will enjoy the most enhanced quality of sound. There will be minimal distortion, if any.
Another worth mentioning feature is the subsonic filter. This is a rather unique feature as far as amplifiers out there go. It will detect any inappropriate frequency and eliminate it in no time. You also need to check out the strapping cable the device offers.
Whenever you feel like making a sound system with double power output, you can use this cable and connect the unit to another model. This way, you will get a total of 8000 watts. So, you can imagine how wonderful the performance will be then.
The model has this bass boost feature to improve the sound quality. And this is the feature you want in your amplifier when you cannot stand too much treble. Now, what about the subwoofer control? Is it efficient? Well, they've made it as good as any. You will have fun in tweaking the bass.
I found the customization of sound to be quite practical too. Thanks to the switchable phase control, you can customize your sound as you desire. Moreover, the measurement of the device makes it easy to set up and handle. So, by all means, this is a fantastic device with incredible wattage.
Our Verdict: If you want the best bass boosting experience, this is the device for you. Its high power output is ought to blow you away by providing outstanding sound quality.
---
5. ​Planet Audio TR5000.1D Class D Car Amplifier
Highlighted Features
Strapping port for easy connectivity to another device and doubling the power output
Both RCA pre-amp and low-level inputs offer amazing sound quality.
Bass boost is spot on ranging from 0-18 dB for bringing about the required bass.
Multiple filters to get the most desired frequency and removing the unwanted ones.
Specifications:
Total Power Output: 5000 watts
Bass Boost: 0-18 dB 
RCA Inputs: 2 channel
Speaker Impedance: 1-8 ohms
The product we are reviewing comes with many useful features. If you are looking for incredible inputs and outputs, this might be the perfect option for you. They've made the variable low pass of this unit very efficient too. It has a range of 50 Hz to 250 Hz. That's brilliant.
Now, the brand has been very consistent about introducing the strapping port in its products. And this one over here has this valuable feature too. I mean, isn't it wonderful to have a bit of flexibility and know that you can increase the power output by double? Yes, that's what this strapping port offers.
I also liked the subsonic crossover range of this model. At 15 Hz- 40Hz, it looks very convincing to me. And the fact that it has 18 dB max bass-boost is excellent.
Also, boosting the bass will be a breeze with the introduction of two excellent features. These are the bass remote and bass knob. The remote will make it easy to adjust the sound while the knob will ensure precision.
I was also pleased with the adjustment of the phase. I can adjust it at as low as 0 degrees and as high as 180 degrees. This way, you can get the best frequency.
Now, will the power output of this unit let it serve the purpose right? Yes, it will. For, 2304 max power output is quite outstanding for a car amplifier.
Our Verdict: If you want the best of filters, you should get this unit. Yes, it will search for the perfect frequency like nothing else. By receiving the strongest signal, it offers very impressive sound quality.
---
Conclusion
We've tried to talk about the most important features in our Planet Audio amp reviews. Hope, that we could be of help. Now, before you make the decision, why not go through the highlighted features once again? It's to make sure that you are choosing the right product