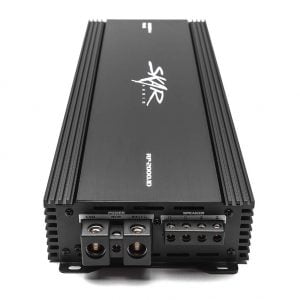 We all know how it's essential to have a decent sound system in your vehicle. Without the right sound, your time behind the steering will surely be a bit bland. Anyone in the car will also wish they were somewhere else. But when you have a good set of speakers, car stereo and amplifier, then your vehicle is where everyone wants to be.
Apart from your sound system for entertainment, you can easily use the hands-free function of your car with a good amplifier. Your sounds will become more audible, and you'll be able to communicate better.
Car amplifiers are necessary to broaden the sound produced by your speakers by providing depth and thickness. There are many amplifiers for cars, but the most ideal is the Class D amplifier.
With your satisfaction in mind, I've decided to provide you with detailed info. The best class d amplifier review will give you a choice that'll make you have more reasons to get on the road.
Top 3 Class D Amplifier For Your Car At a Glance
Table could not be displayed.
Editor's Choice
Our choice products are based on certain features and specs that these amplifiers possess.
For the lovers of loud bass and thicker sound quality, the Skar Audio RP-2000.1D Class D Amplifier is our first choice.
Then, if what you need is an affordable amplifier that can still provide excellent sound quality, the Ignite Audio Amplifier 4000 Watts is our second pick.
Top 5 Best Class D Amplifier for Car
Our amplifiers need to emit that level of supply to our sound system that'll create the best sounds we need. For this to be a reality for you, a selection that'll provide you with a wealth of choices needs to be readily available. This is why I've decided to compile the best class D amplifier for car stereos and sound equipment in your vehicle. Let's go through this selection:
Highlighted Features
2800 Watts Maximum Power
Heat-sink Design
Class D MOSFET Monoblock Power Amplifier
Remote Sub-woofer level control included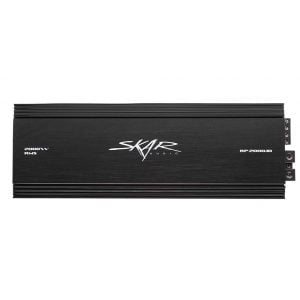 Specifications:
Frequency Response: 20Hz – 250Hz
Sensitivity: 85dB
Impedance: 1 ohm
RMS Power: 2,000 Watts
Peak Power: 2,800 Watts
When you're in the hunt for an amplifier that'll boost the sound production of your speakers, then the Skar Audio RP-2000 should be just what you're looking for.
This amplifier is built to last, and with its rugged design, the only thing you may need to do regularly is to turn down the volume. This amplifier packs 2000watts of raw power and will deliver every watt directly to your speakers. Also, the amp is sensitive to sounds up to 85dB for better sound production from your systems.
If you have a subwoofer, then the Skar RP-2000 will deliver more power to your vehicle's sound system. This amplifier comes with a sleek look. The outer covering of this amplifier comes with a beautiful, state-of-the-art design. The cover isn't made just to look fancy, it adds to the performance of the amp too! The inner layer of this covering is fitted with high-tech heat sinks. The heat sinks on your amplifier will keep it cool and resist the occurrence of short-circuiting as a result of overheating.
Also, when it comes to price, you can rate the Skar Audio RP-2000 as the best class d monoblock amplifier you can get at a bargain.
Our Verdict: If you're in the hunt for a decent wattage and supply from your amp, it's a good choice to select the Skar Audio 2000.
---
Highlighted Features
On-board punch equalizer
Cast aluminum cover design
Wired remote control
Infrasonic filter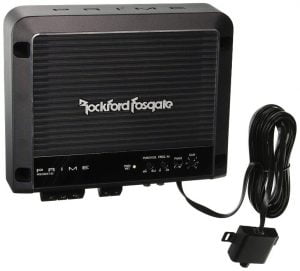 Specifications:
Frequency Response: 20Hz – 250Hz
Input sensitivity: 150mV to 4V
Impedance: 4 ohms
RMS Power: 300 Watts
Peak Power: 500 Watts
If quality, durability, and performance rolled in one are what you seek from an amplifier. You've got to take a look at the Rockford Fosgate R500X1D. With some of the sturdiest designs you can find in an amplifier, you won't be disappointed. Along with a good rendering of sound to your woofers and speakers, it's just what you've been looking for.
This amplifier comes made with cutting-edge tech that prevents the inner boards from heating up. With this feature in your amp, you get to listen to your favorite sounds for longer with no hassles.
As if that's not enough, the Rockford Fosgate R500X1D has more to offer. The design prevents overheating through the charging system. The b also limits the consumption of electrical current. This makes the amplifier a safe, conservative appliance in your car.
If you aren't still impressed, then there's still much more from this amplifier. At 11″ x 4″, this amplifier can be fitted just about anywhere in your car. Also, it comes with a wired remote control to give you more comfort when setting the amp.
Our Verdict: The Rockford Fosgate Single Channel Class D Amplifier is ideal for getting the right surround sound to compact sound systems. It's ideal for medium-high grade sound support.
---
Highlighted Features
The birth sheet included for increased power
Mounting screws included for easy installation
High-speed MOSFET supply
Full IC-controlled protection circuitry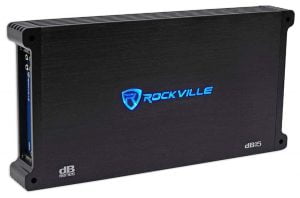 Specifications:
Frequency Response: 15Hz – 250Hz
Minimum THD: 90dB
Impedance: 2 ohms
RMS Power: 3000 Watts
Peak Power: 6000 Watts
When the bass is what you need more than anything else, then you should be interested in the Rockville Mono class D amplifier.
This amplifier is designed for car owners that need their sounds as thick as they can possibly come. If you have a sub-woofer in your car, then you can connect them to this amplifier and let those sounds pound away!
This amplifier has some of the most robust powers you can find on an amp. The maximum (peak) output of this amplifier is put at a whopping 6000watts! This amplifier's rating is higher than the wattage of some home sound systems!
To make this amplifier more attractive, the manufacturers make use of a neatly-designed, heat-resistant metal that keeps the amp from overheating. Also, the amp has an in-built full IC-controlled protection circuitry. This feature ensures your amplifier is protected.
The amplifier is designed to perform in all situations. The manufacturer passes this product through more than a dozen tests to confirm its efficiency. Aside from this, they're so sure of the product that they can allow you to take the amplifier home and try it out within 3 months. If you don't like it, you can return it and get your money back, no questions asked!
Our Verdict: The peak power of this amp is the differentiating factor. With so much to give, you may not need to floor the volume of your speakers. It's ideal for all subs and speakers for maximum output.
---
Highlighted Features
5000 watts Max output
Bass boost function
Mono and stereo support
Thermal protection/Power Supply Management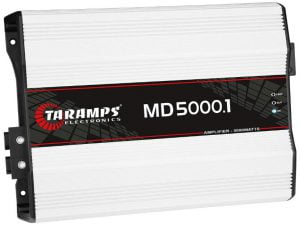 Specifications:
Frequency Response: 10Hz – 10KHz
Minimum/Maximum supply Voltage: 9VDC to 16VDC
Input Impedance: 22k ohm
RMS Power: 3200 Watts
Peak Power: 5000 Watts
With more than enough power packed into the Taramp 5000, it's an excellent choice for a car sound system lover.
This amplifier is designed to come as a power-saver, so when it's in use, there's no worry about uneven power consumption. This is confirmed in the meager consumption at the rest of 1.2A. Also, the maximum musical consumption of this amplifier stands at 244A, which is unbelievably good.
There are so many reasons why you should love this amplifier. It comes packed with thermal protection, making sure your car doesn't overheat when used for a long time. Also, the amp comes with a decent minimum/maximum output of 3200/5000 for unrivaled sound power.
You'd expect the amplifier to come in an enormous build based on its power, but that isn't the case. The amp comes at a dimension of 8″ x 3″ x 13″ that can be considered slim for an amplifier.
There are so many reasons why the Taramp is loved by users of amplifiers. It'll deliver just what you need, and you'll be glad you placed an order for it
Our Verdict: The decent RMS and peak power of this amp makes it suitable for car sound systems in all vehicles. With support for mono and stereo systems coupled with bass boost, it's ideal for bringing the bass to your car.
---
Highlighted Features
4000 watts Max power
Optimized circuit layout for increased sound production quality
Low sound distortion percentage
Sound-to-noise ratio at 85dB
Specifications:
Frequency Response: 20Hz – 250Hz
Input sensitivity: 0.2V to 6V
Impedance: 4 ohms
RMS Power: 3000 Watts
Peak Power: 4000 Watts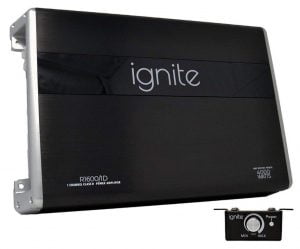 When the best cheap class d amplifieris what you're looking form, this product ranks among your top options. It comes with an impressive 4000 watt maximum supply to your sound equipment.
To further pit this product as the best in the market, the makers use some of the best, cutting-edge technology. This amplifier's inner circuitry is designed with a layering that promotes better delivery of increased sound.
This amplifier is also designed to promote heat dissipation, so there's no cause to worry about your amp burning up.
Also, the amplifier is designed to have a sound distortion percentage of less than a percent. This feature ensures the sounds produced from your speakers are uniform and well-rounded. There are so many beneficial features that you can get from the Ignite, so get it today and light up your vehicle with the best sound quality. 
Our Verdict: When you wish to ignite a brighter mood with the sounds from your subs and speakers, the Ignite is a sound choice. With the right subs in your car, it'll produce any sound level you wish.
---
What to Consider Before Buying a Class D Amplifier
For the best decision to be made on a class d amplifier, you need access to more information. This information will give you tips, hints, and valuable advice to help you select the amp you've always wanted.
Due to the need for more info, I've added a complete guide to help you make a better buying decision. Let's take a look:
The power consumption of the amplifier:
Amplifiers have different rates of using power in your vehicle when operational. You need to take a look at the rate at which your choice amplifier consumes power. Separate ratings can be used to assess this, but the wattage and RMS are the right places to start.
Covering material:
The covering material of most amplifiers today is made from metal. The housing of your amp will determine how long the amp lasts and some other factors. There are amps that come with heat-sink and other protective tech. This tech depends solely on the covering of the amp. If your favored amp doesn't have a defense against the elements and short-circuits, then you may need to make another choice.
Your sub-woofers power:
In your vehicle, the only way you can enjoy the best sounds through an amp is by adding a sub-woofer set. Apart from having a sub-woofer set, you have to consider if the amp exceeds the woofer too much. If your amp has considerably more power than your sub-woofer, you may be in the market soon for a new set of woofers. It's also essential to know that a sub-woofer should have more power over an amp than the other way round.
Cover design:
Apart from the material used in making the amp, its design is also worth looking at. The design of an amp can go a long way in tipping the sound produced by your speakers. Also, the cover design could help in protecting your investment with a compact design. When your amp's cover has a sleek design, it'll be more difficult for the elements to have a direct impact on its performance.
Protection interface:
When selecting an amp, take time to check the packaging for what protection the circuit board has. Some people overlook this, but it's a risky thing to leave out when making a decision. Amps today are made with various types of integrated circuit protection tech. Such tech is required for your amp, as you may need to use it for long journeys. When there is no IC protection for your amp, the chances of damage are increased multiple notches.
Peak power:
The peak power of an amplifier will go a long way in satisfying you if you're an ardent lover of louder music sounds. Endeavour to check the peak power of the amplifier and also the RMS and impedance at which it performs. It will help you to know how you can tune your amp to the best position without causing any damage.
Your budget:
Money is a factor in many things we do in life. It's equally important to take a look at your pocket when choosing an amp. There are amps that can be classified as being expensive for nothing. In selecting an amp, the price may not be equal to quality, so check out a cheap, high-performance amp if you're on a budget.
Maintenance Tips for Your Amplifier
Keep the volume at an average level:
It's surely tempting to floor the volume of your car sound system when a new amp has just been installed. No matter how thrilling it may be, you shouldn't ever try doing this. If you only had a new amp installed on a vehicle with old speakers/subs, then excess power flowing through your amp can easily damage your appliances.
When you get a new amp installed, the best way to use it is to get a personal check. Turn on the system and determine where the sound volume of your speakers is just enough. It'll help you protect the amp from damage, and you'll enjoy the best sounds without any problems.
Place the amplifier on a flat, sturdy surface:
When installing your amp, it may be tempting to chug it off at any corner. It's not advisable as you could impede the performance of the amp. The recommended spot for mounting your amp is on a horizontal surface, preferably deep inside your trunk area.
Keep your amplifier away from any liquid contact:
This boils down to where your amplifier is set up. If you have the amp set just right in the flooring of your trunk, don't stack anything on it. If any liquid gets in contact with your amp, then the circuit boards will definitely get fried, and you'd need to spend extra cash in getting a fix or replacement.
Common Mistakes to Avoid
Trying to be a DIY when checking the rating:
We all know how enticing it is to be a DIY-guy every now and then. It may even make you feel powerful sometimes. But when amps are in play, don't try checking the rating to merge with your sound system yourself.
The best option when trying to tweak the performance of your sound is to get help from a pro. No need to do any stuff yourself when you get such people to measure the power your amp delivers to your speakers.
When you get a technician to check your sound out, you're also assured that you'll not need to spend extra cash if you'd damaged anything during your DIY spell.
Poor maintenance culture:
Just like the other parts of your car, the amp also needs some form of regular maintenance. When you abandon your amp under a trunk or seat, it may accumulate dust and other particles that may cause faults to develop in your amp. The safest step is to clean the outer area of your amp with a damp cloth whenever you're cleaning the interior of your car thoroughly.
Fitting your sound system in absorbent areas:
Your sound system will perform better when the fitting is just right. Speakers are mostly installed in-door panels nowadays. Some of these installations are plain wrong. If your amp is to perform well, your speakers should be installed without any padding or sound-absorbing material in the way. It's a lousy choice to fit your speaker or subs underneath the seats of your car, as the sound will be absorbed by your car's floor.
How to Maximize the Performance of Your Class D Amplifier:
Get the right sub-woofers and speakers:
Your subs and speakers can determine how well your amp performs. If you have underperforming, out-of-date sound accessories, then your amp's effect may be significantly dulled.
What you need to do when hoping to get the most from your amp is to ascertain the performance of your current subs and speakers. If you don't like how it performs with your new amp, then think about getting a new sub-woofer first. If the sound still isn't as you want it, then you may need to get your speakers changed too. When making these changes, enlist the help of a pro sound technician to be sure of the choices you make.
Warranty:
The warranty of the amplifier will determine whether you enjoy the benefits of your investment if a fault develops. It's essential for you to check your product's packaging, whether it comes with a warranty. To be totally safe, check for the warranty online before you even make the purchase!
Also, know that there are sellers that render the warranty of an amp invalid. Ensure you purchase your amp from an authorized dealer. Such a step will make sure your amp's warranty is intact, and your money well-spent.
Proper wiring:
The wiring of the amp to your subs and speakers will determine the depth of sound produced in some cars. When it comes to wire installation, price equals quality in many aspects. Get the best wires you can find and fit them with your amp-sub-speaker connection. This will promote a better sound supply, and it may be what your car has been missing.
FAQ Of Class D Amplifier
Q-1. Do I Need to Change the Speakers in My Car to Use a New Amplifier?
Ans: This depends on the type of speakers in your car. If your speakers have a combined capacity that can hold a good percentage of the total RMS supply of the amplifier, then you can use the old speaker. But if you want to be on the safe side, you can get a complete overhaul with new speakers for your car.
Q-2. Do I Need a Sub-Woofer for My Amplifier?
Ans: It is advised you make use of standard woofers at the least when looking to optimize your amp's performance. Sub-woofers in the mix will deliver more bass to your car's sound and will make the amplifier perform better. It is advised you install a sub-woofer for your amp at the rear of your vehicle.
Q-3. What Does Class D Mean on My Amplifier?
Ans: The class of an amplifier refers primarily to its design and specifications. In the design of sound amplifiers, there are Classes A, AB, C, and D amplifiers. A and AB amplifiers are of inferior quality based on their design and output. The most desired, high-quality amplifiers are class D amplifiers.
Q-4. Where Should I Set-Up My Amp?
Ans: There are many places in your car where your amp can sit comfortably. But the best place to put your amp is an area out of easy reach and where there's airflow. Sites such as beneath your trunk should be considered if the padding of your trunk isn't heat-absorbent. You can also choose to have it installed under the rear seat in your car. Any of these two positions will work just fine.
Q-5. What Does Impedance Signify?
Ans: Impedance simply means the amount of power required by the amplifier to perform. It can be measured using the resistance detected by the load.
The impedance is the determinant of the threshold for the amplifier's load when you're looking towards having a decent performance from your speakers.
Conclusion
It's a fact that some amps are made to outperform others. But on the flip side, it's necessary to note that the amp with the highest and most impressive specs doesn't translate to being the best for your car. The best option for you is to do some research on what'll work best for your vehicle. When making this decision, put your current speakers and subs in the mix to get the right choice. I'm confident that with this review and guide, you'd get the best jams in your car in no time!
As an Amazon Associate I earn from qualifying purchases