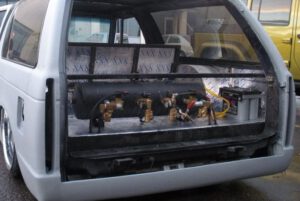 Tolerating a loud noise for a long time not only can mentally annoy you, but it can make you physically sick as well. However, let your car trips free of any irritating noise and enables it more enjoyable with enhanced audio quality.
Insulating your car with an ideal sound deadener is very common now a day. A sound suppressor or a sound deadener effectively lets you silently drive your vehicle with a high bass stereo quickly.
Anyway, there are hundreds of sound deadener available now a day. Finding the best sound deadener for car among all of them may be an overwhelming matter for you.
To make you free from such a dilemma, we are today with our 7 best sound deadener reviews.
Hopefully, all these reviews will help you to select a perfect sound deadener to zoom a piece of expressway music along with a free of unwanted noise and vibration in a long road.
Let's go for the details-
Top 7 best sound deadener for car Audio:
Below is the list, which includes the review of the seven best sound deadener for car. Read them carefully to choose your desired one.
Highlighted Features
The nominal thickness is 80 mil.
Light in weight. (0.7lbs /sq. Ft)
Featuring an insulator indicator to let you confirm you have fit your insulator accurately or not.
While manufacturing, use butyl to ensure perfect insulation despite being a lightweight product weight.
Total 9 Noico mat sheets are included in the package content so that users can use each of them to cover the multi-area.
Combination of Automotive butyl and heat protector foil works together to deaden the sound at an extreme level.
Compared with some other brands like Gtmat, Boom Mat, and Dynamat Extreme, Noico efficiently saves almost 20 % buying cost giving nearly the same performance.
Both the audio noise insulation or reducing the car vibration, Noico can affordably do all.
However, already you may know that the thicker the insulator, the more it can suppress the noise.
And emphasizing this automotive proverb, its manufacturer got it's an 80mil thickness, which almost can give you 1.5 times thicker sound suppression than many others.
It is manufactured with butyl; therefore, this product got a light in weight. This lightweight does not hinder the sound suppression process.
Noico is a full-weighed sound suppressor; its Vibro-dampening layer contains butyl with other sounds deadening improver. Before purchasing this product, be sure it has an optimal weight, and that is,0.7 lbs./ 1 per sq. Ft.
A more or less of this weight range can decrease the performance of this best heat insulation for carsvery severely.
Finally, Noico contains a perfect adhesion level to fit in your car quickly. With the combination of a Closed Cell Foam, it can cover any portion of your vehicle to suppress an irritating noise.
---
Highlighted Features
Featuring a Super-Stick Adhesive.
80 mil in thickness.
It is featuring to enhance the bass and audio quality of your car's radio.
This mat can bring Heat In-Cold and Cold in-Heat in the cold or hot session.
It has no odd smell.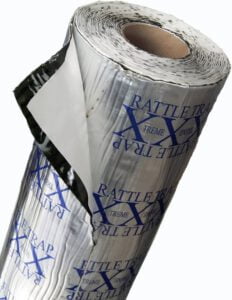 Dramatic suppression of any loud noise is possible to gain through the FatMat Sound Deadener. A Rattling noise, vibration, engine noise, exhaust noise along with other roadside noise; each can reduce using this sound insulator.
This noise insulator not only reduces the noise; it also can enhance the bass quality and can improve your factory's audio quality equally. FatMat can minimize vibration in the vehicle.
The 18-inch-wide x 33.5 feet size of this product can easily cover 50 square feet of your car's body. It can suppress any sound with its 80-mile thickness.
A patented Super-Stick adhesive backing is included on the back of this mat, which is pressure sensitive. Therefore, when the user applies pressure to set the mat, it perfectly sits onto the body of the car.
The heat-resistant Aluminium surface of FatMat protects the car's body from getting it hot upon a high heat. The lightweight of this mat helps the user to easily and quickly transport this product from one place to another. It's an impressive mat; many customers already give a useful review about it.
The package content of this product comes with one18-inch-wide x 33.5 feet FatMat, an instruction guide, and an installation guide (Knife, Roller, Sound control Decal, etc.).
---
Highlighted Features
Contain an Especial embossing foil along with an especial indicator to ensuring about the fittings of the mat onto the car's body.
Featuring Handy-Size sheet of the dampening material to helps the user a smooth cutting and setting of this mat.
Thickness is 80 mil, which can give coverage of almost a total of 36 square feet area.
It bears a holding capability against any High or Low heat.
Give an excellent value for each of your money.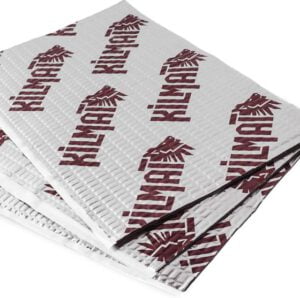 Kilmat 80 mil offers the customer a 50% more quality and a 30% less price than any ideal sound deadener today. Surprisingly, per square feet of this mat will cost $1.65 from you.
Most probably, it is the reason for what this mat is renowned as the best sound deadening for the money. Butyl and foil all together make this mat are more capable of 1.5 times more insole your car effectively.
The 80-mil nominal thickness of this mat gives an extreme performance all-time. It is a Self-adhesion insulator manufactured with butyl, which makes it weight 0.5 lbs./1 sq. Ft. user often confused this lightweight how could suppress the loud noise so effectively!
The misconception about the bulky weight and the sounder suppression capability is wrong in all angles. Despite having such light weigh Kilmat easily can deaden all Automotive Sound can insulate the Audio Noise also can dampening.
The unique indicator located with this mat helps to ensure the user whether the mat is properly fit onto the surface or not.
This useful sound proofer can suppress Roadside noise, Squeals, Rattling noise, and vibration as well.
---
Highlighted Features
It is featuring an active suppression of noise & vibration More than two times.
Contain an Optimal sheet dimension (29.5×19.5 inch).
Allow Operating Mode up to 212°F.
Include a Special Indicator to let you confirm whether the installation process correctly accomplished or not.
Include more efficient butyl.
Noico 80 mi is a lightweight sound proofer which contains a combination of butyl with several improvers as its Vibro-dampening layer.
Composition of butyl and all these improvers needs to use in a correct proportion to get the maximum benefits, And Noico uses the perfect combination to obtain that.
This full-weighted super functioning mat featuring a thickness of 80 mils, which gives a lightweight that is 0.7 lbs./1 sq. Ft. Noico is a user-friendly brand, always emphasize on easy use and extreme performance.
This mat is easy-to-use and easy-to-set. Users can cut this mat easily as well. This best sound deadener for car can suppress rattling noise, Low-frequency engine noise, roadside noise, other exterior noise, etc. It also can reduce vibration equally.
A sound suppression and a higher comfort inside your car only possible if you use Noico to insulate your vehicle.
Moreover, it's an affordable mat already deadens its buying price also. It's the best price mat available now a day. You will need only $1.77 per square feet of this mat. Isn't it too cheap?
However, Noico stands alone is not sufficient enough to produce 100% efficacy for getting the optimal action.
We suggest using Noico together with Closed Cell Foam layer to protect your car from heat and noise and vibration.
---
Highlighted Features
It is featuring Nine 18″ x 32″ flexible sheets to cover multi areas of your car.
Contain an Aluminum layer to resist heat.
High Tack Permanent Adhesive.
Lighter in weight, thin in size.
It can enhance the bass in the factory stereo system.
There are several options to soundproof your car effectively. But Dynamat is the best among many competitors. The bulk pack of Dynamat also save a considerable price, thus become a cost-effective project in many of your DIY project.
However, Dynamat is a brand already proven and trusted its performance by many professionals. Dynamat extreme can defeat any of the engine trouble noise or any roadside noise to come inside of your car.
This mat mainly manufactured to dampen noise. Along with one best line out converter, it can be an excellent choice for your car's stereo system as well.
This mat can help you to enjoy an increased bass and enhanced music quality in your vehicle, even on a busy road as well.
Dynamat Xtreme contains a substantial adhesive back portion, which could bring a smooth and robust finishing of the mat on the surface of your car.
A double aluminum coating can endure any most stringent condition and can prevent sound from entering your vehicle. It is a lightweight mat also thin in size and can prevent the heat from entering inside the vehicle.
The package content of this product comes with (9) sheets of 18 "x 32" pieces of sound deadener and a user guideline.
---
Highlighted Features
Aluminum-coated to thermally shield the car.
It can enhance the music quality.
It contains 14 multi sheets with 23.6×15.94-inch user-friendly size.
Contain Bmastic as Damping Material, a most advanced and functional sound proofer now a day.
Excellent adhesion, easy to fit. No need of spraying separate Spray-on paint or adhesive to install it.
Suppression of the road noise with an increasing audio quality inside the car is possible by the Siless Black sound deadener. This sound deadener can suppress the sound, also can damp it.
Manufacturing of Siless 80 mil 36 sqft Car Sound Deadening mat, it seems today's automotive industry got the best sound deadening material for cars. It's an industrial graded sound damping material anybody can use if they need an extreme sound suppressing performance.
Siless Vibro contains Bmastic, a new invention to obtain an advanced and more functional sound suppression effectively. Compared with other competitors, it is a more cost-effective sound deadener, which takes only $1.50 per square feet of the mat. This mat is compatible well with the "peel and place" application, therefore offer the user an effortless and quick installation in their car.
However, an 80-mil thickness of this mat can give coverage of up to 36 sq. Feet. Siless is the perfect thing which improves your factory's car stereo with enhanced bass quality. Lastly,
Siless offer its customer an easy installation with a strict adhesiveness. Without spraying any extra paint or adhesive, it adheres strictly to the car surface. This mat leaves no odd smell or no messy drippings inside your car even in a hot summer.
---
Highlighted Features
It contains a polyethylene film on a protective foil layer.
Capable of sealing the firewalls, floorboards, or door of your car to deaden any road sound.
Featuring 70 ml thickness sound deadening.
Contain a High-Temperature Adhesive backing.
Easy-to-trim & Easy to fit.
There is no doubt; it is an excellent thermal insulation for your car. It's a sound deadener effectively can works on heat insulation as well. So, the user just gets two in one action using this best sound deadener for car nowadays.
The polyethylene film, along with the heat protector foil surface, successfully can directly protect the interior Firewall, Door, and Floorboards of your vehicle from radiant heat.
This sound insulator can preserve your car straight up to 2000°F radiant heat and 300°F direct temperature. Moreover, you will find a high-temperature adhesive backing on this suppressor which helps itself to insulate your car more easily and quickly.
As it has a 70ml thickness, therefore it can suppress almost 70 ml of irritating sound in your vehicle. It's an easy-to-use and easy-to-fit sound deadener which is affordable for all sorts of users.
However, Thermo-Tech Heat and sound Suppressor has some problem as well. As our client satisfaction is a crucial thing for us, so we think you supposed to know the cons of this sound suppressor as well. The problem is that with a high temperature, the glue from the back-adhesive portion can gradually meltdown and finally can separate the insulator from the car.
Therefore, you must have to be very cautious if you want to use this suppressor in your vehicle.
---
Buying guideline for the best sound deadener for car:
Which factors should you observe while you are buying the best sound deadener for the car?
Choose a smell-free mat:
Nobody likes a smelly car riding. A sound deadener that is prone to melt over high heat can produce an odd smell.
Though placing a polyurethane foam under the mat can protect the mat from melting down against an increased temperature.
Still, it is better to find such a sound deadener that is odor-free and does not let any dirty residues in a hot summer.
Go for a thicker mat:
Thicker the mat, more sound suppressor it is. Several sound deadening mats are available in the automotive market with a thickness starting from 50 mils, and it can cross 100 mils as well.
However, a 100-mil thick sound deadener will give a professional output. For overall performance, you can go with an 80-mil thickened sound deadener, which is very common in many brands.
Prefer the mat which includes a roller:
Separate purchasing of a roller may take both your money and time unnecessarily. As you cannot go out of using a roller to fit the sheet, it is wise to find such a mat which already included a roller.
Prefer butyl for manufacturing the mat:
Some brands use this polysynthetic rubber to manufacture the mat along with other improvers. It can effectively make the mat light in weight with an increased sound deadening activity.
Is it affordable?
An expensive product doesn't indicate it would be an affordable product for all users all time. See the customer review and their feedback on various review sites to ensure you are purchasing a perfect product for your car.
A useful discussion of your mat tells you, yes, I am available at this price, and I am affordable for you.
However, some insulators may be so expensive; all users cannot afford that much. In that case, they can find some cheap but effective mat as well.
What is your choice?
It is both a silly and critical question! Do you have an affinity for any particular brand or a specific print of any mat? I have one of my friends, who have brought an unknown brand of mat only due to having an exclusive print onto it.
Though it hears a little bit funny, it can happen sometimes. However, if you are love with such affinity, there is no need to listen to anybody's suggestion. Just collect your choice.
Advantage of sound deadening mat inside your car:
why should you install a sound suppressor into your vehicle? A sound deadener not only reduce the rad buzz getting inside the vehicle, it also can-
Reduce roadside noise, engine noise, tire noise, etc.
Minimize the vibration at a comfort level.
Can enhance the cold in-hot or heat in-cold in the car in summer or a winter season.
Offer the user a quiet and comfortable car driving.
It helps to prevent driver fatigues and vomiting.
Make the car thermally stable.
Enhance the bass of the audio and help to gain a piece of quality music from your car's radio.
The impact of Suspension sounds also prevents while using sound deadener.
Sound deadener Frequently Asked Questions (FAQs):
FAQ-One: What are the possible reasons for which vehicle produces loud noise?
Answer: The first and foremost reason is excessive tire noise. And the second is an exhaust Leak or a vacuum leak.
FAQ-Two: Is it possible to be quiet the car without further sound proffer installation?
Answer: Possible sometimes. Like Lexus do itself. An upgraded Sheetmetal or Steel is used to construct each Lexus new models. Surprisingly this Sandwich Metal itself a layered metal that further can suppress the sound automatically.
Moreover, a Hybrid Engine used in Lexus can itself reduce any irritating engine noise.
FAQ-Three: What are the most effective ways to deaden the sound inside of the car?
Answer: Only using a sound deadening mat may not efficient in deadening the loud noise. For better efficacy, use sound protector foam under the mat.
Also, cover the door and car boot. If still, you are getting a loud noise, replace your car tires with a new quit one. Finally, check the exhaust and vacuum line.
Do proper maintenance if required. You can cover the car window with thick and dump clothes to get more efficacy.
FAQ-Four: How a sound deadener can enhance the car's audio system?
Answer: Installing a sound damper, helps to remove any unwanted road-noise, tire or engine created noise from out of your car's cabin. Therefore, it can reduce any speaker resonance, which tremendously increases the inside sound quality.
FAQ-Five: Is there any sound blocking agent like an insulation mat?
Answer: Yes, there are. Any barrier, RC Channel, Foam layer, Vibration pad, Sandwich Panels, Fabric-wrapped Acoustic Panel also can block a loud noise.
Tips for using sound deadener:
Don't forget to wear safety gloves while you are working with any sound-deadening materials.
Before starting to insulate any area, properly clean, and degrease it.
A successful sound suppression of your car 50%, depending on your correct installation of the insulator mat. So carefully pre-roll the mat on the car surface.
See the special embossed of the foil (if any) to ensure you have accurately rolled the mat. If you need more pressing, press it.
Instead of buying a mat from the retailer, try to purchase it from the listed e-commerce site. It will help you to get the perfect product with a quality service for longer.
Final verdict:
Truthfully, we cannot expect to reduce the sound a hundred percent while riding our vehicle at a busy road.
The fact is that using the best sound deadener for a car only can effectively reduce the unwanted noise and vibration at a comfort level for you.
However, you can choose a sound deadener from our seven recommendations. Believe us, your investment will not go in vain if you do so.
Preventing any sound to come inside the car or reducing the car vibration, can bring a relaxing comfort for you after all!
As an Amazon Associate I earn from qualifying purchases