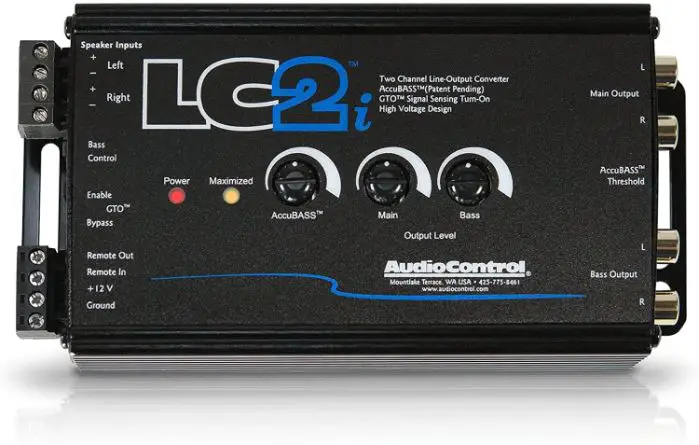 Many of us like to hear more depth music with a loud volume while driving alone on a highway. Enjoying a piece of loud music with a high bass brings extreme excitement into life.
A piece of loud music with a depth live feeling needs a high-quality bass. And for this, we need an external power amplifier to set with the Radio. Undoubtedly, an amplifier of the low frequency into enlarged enough to make it compatible with the Loudspeaker.
However, a factory stereo system needs an external amplifier if it doesn't include a preamp output built with it. And the fact is, you need a line out converter to hookup your Amplifier with your factory car stereo system in that case.
So, it is mandatory to know How to Install Line Out Converter, if you don't want to ask any professional aid to install it on your car's system.
Let's go-
Why we need a Line Out Converter?
A-Line Out Converter or LOC needs to convert the Speaker-Level Audio Input (from the audio head unit) into an RCA-Pre-Amp Level Output (for Loudspeaker).
LOC connects the factory radio system (a new radio as well) with the Amplifier. It needs to change the conventional speaker system into a piece of pop music.
Instead of using an external amplifier with an in-built Speaker-Level-Input system, a LOC can be a great choice with several upgraded features.
The advanced level line out converter present nowadays may feature an Onboard Equalizer, a Higher Pre-Amp Voltage, and a Restoration Circuitry. So, all these features are severe matters to more accurately control the car audio system.
It is true that an external amplifier featuring fewer components thereby offers an easy installation. In that case, setting a LOC with several parts is prevailing to control the user-end deeds.
The fantastic news is, a LOC is less expensive than a Speaker-Level-input system Amplifier. So, we are often suggesting installing a good line out converter to hook up the factory amplifier with the head unit.
How do a Line Out Converter Work?
A LOC is used to convert the Factory Speaker Output/ OEM Amplifier Output into a suitable signal if we explain it in a simpler way.
The resulting signal further drives the Preamp Unit of the Amplifier. A line out converter is used to get high and robust output from the head unit.
How to Install a Line Out Converter?
We had passed the day when it had to hook up the stereo system using the Stripped-Bare & Twisted Wire Stacked on a Loaded-Tiny Spring Clamp.
Now audio aftermarket replaces the system by pairing the wires in an RCA Jack. However, a line out converter offers a quicker and easy installation with the amplifier/factory stereo unit to deliver high output from the Amplifier to the speaker.
Installing the line out converter will need the below-listed items for further progress-
Solder
Wire Strippers
Electrical Tape/ Heat Shrink.
Screw Driver.
Let's see the process steps on installing a LOC.
Find the wires that come from the factory radio unit/ Amplifier. Search behind the Head Unit; it may be situated here.
If you got the wires, remove approximately one inch of the insulation portion from the wire. Use a Wire Stripper to do this removing.
Now Solder the LOC wires to the factory wires.
Use a Heat Shrink /Electrical tape to cover well the connection of all these wires.
Securely keep the LOC in your vehicle.
Connect the RCA cables with the LOC and further drive those cables to the Amplifier.
Now set Amplifier at a medium setting.
Turn on the radio system.
Set the audio volume at your demand level.
If any distortion is producing at the delivered audio, use a Screwdriver & set the Amplifier's gains on your LOC. Continue till the distortion goes away totally.
Tips and safety precaution regarding installing a LOC:
If the Amplifier already is featuring a High-Level-Input inbuilt with, a Line out converter will useless in that case.
A similar polarity of the LOC and the Speaker Wire is mandatory. Reverse polarity can damage the system. Also, it can provide a low volume featuring a bad quality.
Frequently Asked Questions (FAQ)
Does an amplifier featuring a Speaker-Level Audio Unit need a line out converter?
An amplifier comes with a Speaker-Level Audio Input and doesn't need a line out converter to further hook with the Radio Stereo Unit.
Such type of Amplifier directly connects the radio speaker using a direct wire or cable. That's why there is no need for an additional line out converter for any hookup process.
Does each radio unit need a separate LOC?
Each radio system needs a separate LOC if it is connected with a separate amplifier. Suppose you intend to add a new radio with your existing Amplifier, so there is no need for an additional LOC.
You already installed a LOC with your current Amplifier, which is capable enough to support here. If you wish to add a new stereo with a new amplifier, you will need a new LOC to assemblage the Amplifier with the stereo head unit.
Final Verdict:
Only a perfect install of the line-out converter can deliver a profound and more lucid audio to both the factory radio system or other radio systems.
However, How to Install A Line Out Converteris the must-know knowledge if you want to set an external amplifier for a piece of louder and clearer music coming from your Car's Radio.